Vladimirsky Prospekt
Vladimirsky Prospekt is the shortest prospekt ("avenue") in St. Petersburg at just over 400 meters long. It runs between Nevsky Prospekt and Vladimirskaya Ploshchad. Walking along Liteiny Prospekt, you might not notice that you have crossed onto Vladimirsky Prospekt. This is because the two prospekts were actually built as one avenue until their artificial division in 1860. Despite its length, Vladimirsky Prospekt is home to several interesting landmarks.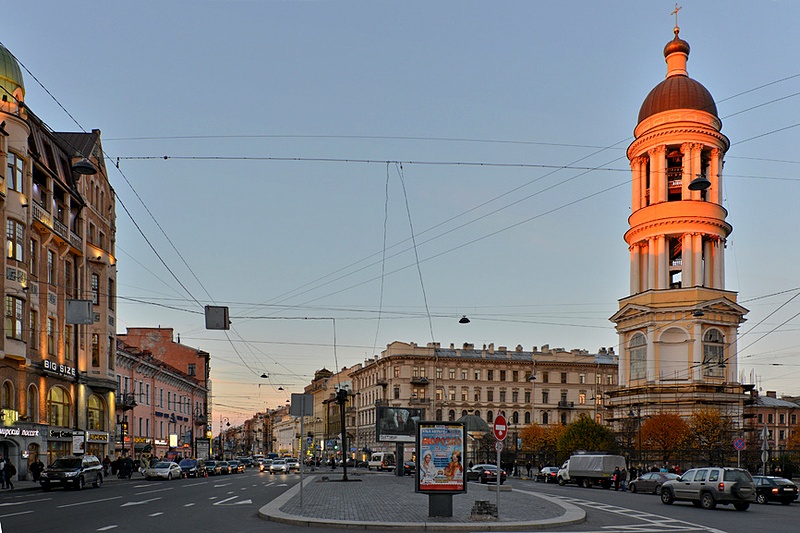 The bell-tower of Vladimirskiy Cathedral on Vladimirskiy Prospekt
The main sight is Church of the Vladimir Icon of the Mother God, which is named after the highly venerated Our Lady of Vladimir icon. Although the building is frequently credited to P.A. Trezzini, it is difficult to assign a single architect to the church, which was built 1761-1769. The cathedral was built for use by the senior court officials resident in the area. Therefore, the interior of the two-story cathedral was very ornate, including an impressive Baroque iconstasis brought here in 1808 from the chapel at the Anichkov Palace. In 1786, Italian architect Giacomo Quarenghi built a double-tiered bell tower adjacent to the church, and in 1848-1849 Franz Rusca, another Italian architect, added a third and fourth tier. Despite the seizure of church property by the Bolsheviks during the revolution, the ancient iconostasis and rare icons in gold oklad (coverings) can still be seen at the Cathedral of the Vladimir Icon of the Mother of God.
Among other notable landmarks are the Palkin House (No. 1), which is home to the Palkin Restaurant, known throughout Russia and among the oldest in St. Petersburg. The Radisson Royal Hotel (No. 2) was the Hotel Moscow in the Soviet period, best known for its cafe, which was unofficially christened "Saigon" and became a popular haunt with generations of underground artists, writers and musicians. The Korsakov Mansion (No. 12), a fine neoclassical building from the 1920s, was turned into a theatre after the October Revolution and, as the Lensoviet Academic Theatre (from 1953), it became one of Leningrad's most famous drama theatres.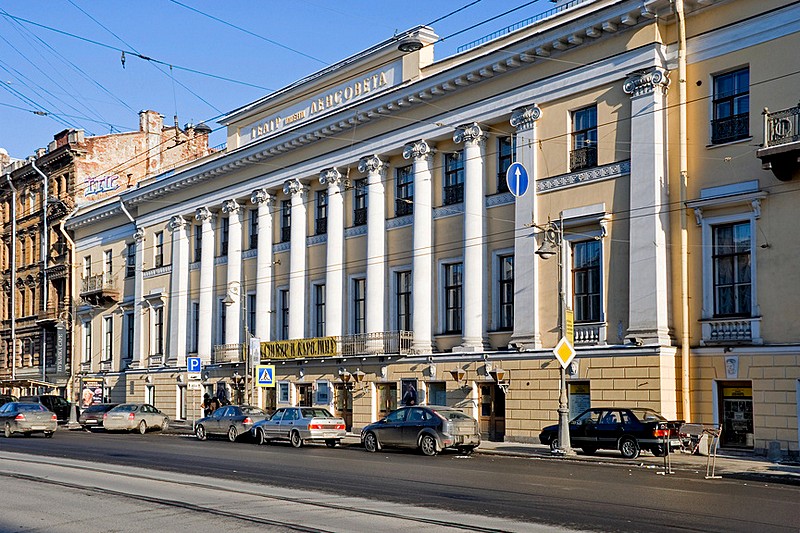 Lensoviet Drama Theatre on Vladimirskiy Prospekt
The great writer Fyodor Dostoevsky lived on Vladimirsky Prospekt at house number 11 from 1842 to 1846 and the final years of his life (1878-1881) were spent in an apartment just off Vladimirsky Prospekt at 5, Kuznechniy Pereulok (now home to the Dostoevsky Memorial Museum). As well as the monument to the author in front of Vladmiriskaya Metro Station at the southern end of the avenue, there are several references to the author in the area, including the Dostoevskaya Hotel at No. 19 and, behind it, Dostoevskaya Metro Station.
From 1918 to 1944 the avenue bore the name of Semen Nakhimson, a Bolshevik and commissar of Latvian riflemen who was killed by anti-Soviet troops in 1918. Today, Vladimirsky Prospekt remains an important part of the tourist route through St. Petersburg's historic centre.
| | |
| --- | --- |
| Metro stations: | Dostoevskaya / Vladimirskaya |
| Directions: | All exits from the metro stations bring you directly onto Vladimirsky Prospekt |
| Best walking route: | The entire avenue (about 15 minutes) |
| What's here? | Church of the Vladimir Icon of the Mother of God, Korsakov House / Lensoviet Academic Theatre |
| What's nearby? | Liteiny Prospekt, Zagorodny Prospekt, Nevsky Prospekt, Vladimirskaya Ploshchad |