Peterhof Hermitage
Standing on a moted island right on the shore of the Gulf of Finland, the graceful two-storey Peterhof Hermitage was envisioned by Peter the Great as an informal dining room for his closest associates, with a system of pulleys used to serve food and ensure the privacy of the diners.
Designed by Johann Braunstein, the Hermitage was begun in 1721, but not completed until shortly after Peter's death. A sandy-pink building with Corinthian pilasters and large arched windows, the Peterhof Hermitage comprises a bright, airy dining room with seating for fourteen on the upper floor, and a buffet and kitchen for service on the ground floor. Originally, the only connection between the two floors was by a two-seater chairlift used to hoist guests up to the dining area. The dining table was also lowered and lifted to deliver orders and serve food, so that the diners could enjoy total privacy undisturbed by servants. The chairlift was replaced with a staircase after Pavel I was stranded in mid-air due to a snapped cable in 1797.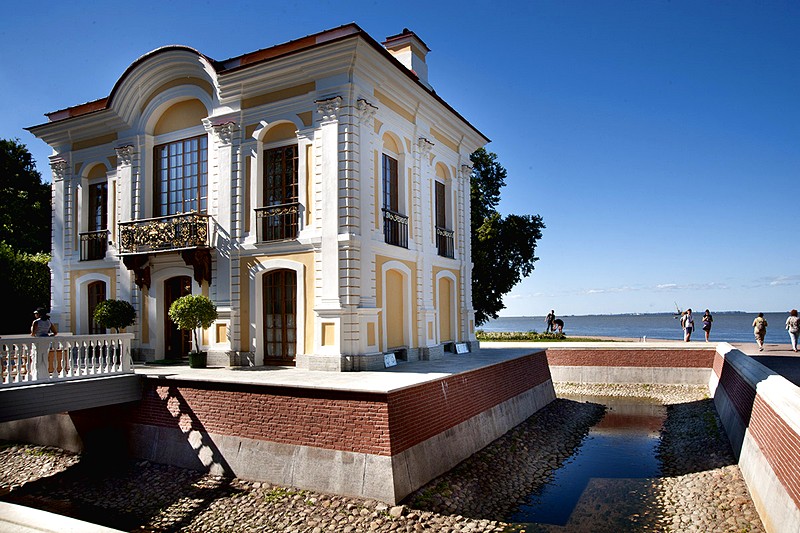 Hermitage Pavilion in Peterhof
The walls of the dining hall are completely paneled with canvases. The original decor of the room included only a few paintings but, in Empress Elizabeth's reign, 151 canvases from Peter's private collection were mounted on the walls. Most of these were destroyed in a fire in 1808, and the current selection dates from the refitting of the building the year after, and from further renovations in 1925. The paintings, landscapes and battle scenes by French, Dutch, Flemish and German artists of the 17th and 18th centuries, were chosen from the stocks of the State Hermitage to approximate the tastes of Peter.
| | |
| --- | --- |
| Open: | May to September: Daily, except Tuesdays, 10:30 am to 6 pm. Last admission is at 5 pm. October to April: Saturday and Friday, 10:30 am to 5 pm. Last admission is at 4 pm |
| Admission: | RUB 150.00. Audio-guide: RUB 150.00 |
| Photo and video: | not allowed |