Monplaisir
Peter the Great's pet project at Peterhof was this small but charming summer palace, which the Tsar designed by and for himself, although he sought the help of several architects to do so. If you arrive in Peterhof by boat, Monplaisir is one of the first sights to greet you.
Sitting in the eastern corner of the Lower Park, right on the shoreline of the Gulf of Finland, Monplaisir vaguely resembles a Dutch Colonial mansion, with its high gabled roof over the central corpus and narrow rectangular windows to keep out the wintry north wind. The facade on the opposite side of the palace is quite different, with long single-storey galleries topped by a balustraded terrace and supported by slender columns. Here, large French windows allow natural light to pour into the rooms, giving the whole building a summery, almost tropical feel.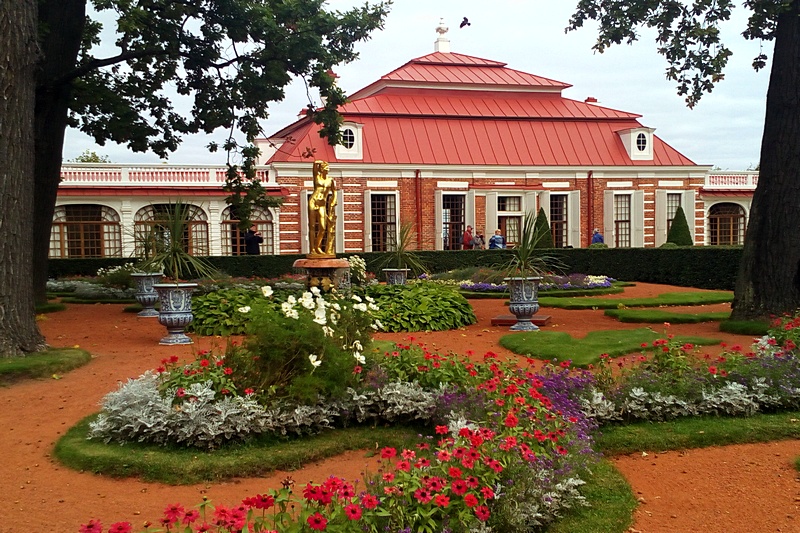 Monplaisir Palace and Garden in Peterhof
Monplaisir was completed by 1723, and became Peter's preferred retreat, where he entertained only his closest friends and advisors. The rooms inside are almost entirely paneled in oak, and contain an interesting collection of 17th century art, much of which comes from Peter's own collection. Among the highlights inside is the delightful Lacquered Gallery, the creation of which required Russian icon-painters to spend months studying Chinese lacquering. The result is an extraordinary mixture of black, gold and red panels with a distinctly Russian accent. The Assembly Hall, which was the main reception room, used for riotous banquets in Peter's time, is decorated with latticed panels representing Africa, America, and Asia, and intricate rocaille coving.
Typically for Peter, Monplaisir displays an intriguing mixture of grandeur and homely comfort, with its pretty Dutch-tiled pantry, where Peter's wife Catherine would herself cook for guests, and the cozy Maritime Study, with tiles representing 13 different types of ship. From the windows, the view across the Gulf to Kronshtadt on one side and St. Petersburg on the other is particularly fine.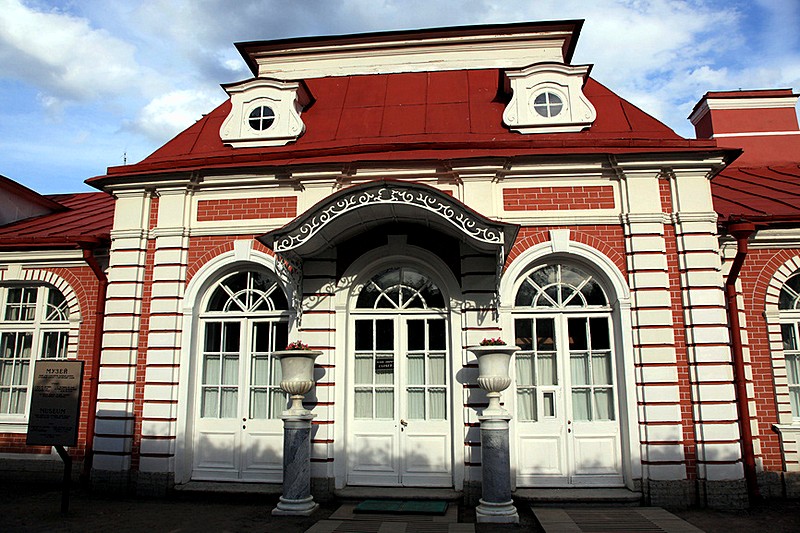 Bath Wing of Monplaisir Palace in Peterhof
Added later to Monplaisir are the Bathhouse Wing and Kitchen Block, ordered by Catherine after Peter's death, and the Catherine Wing, which was originally built for Empress Elizabeth, but adapted by Quarenghi for Catherine the Great, who lived at Monplaisir during the last years of her marriage to Peter III. It was here that she heard the news of the coup against her husband that would eventually make her Empress of All the Russias. Inside the Catherine Wing, there are more relics of Alexander I than of Catherine, including his study and bedroom, with an extraordinary boat-shaped bed.
Monplaisir Pavilon:
| | |
| --- | --- |
| Open: | May 23 to October 9: daily, 10:30 am to 6 pm. Last admission is at 5 pm. |
| Admission: | RUB 400.00. Audio-guide: RUB 150.00 |
| Photo and video: | not allowed |
Catherine Wing:
| | |
| --- | --- |
| Open: | May to September: Daily, 10:30 am to 6 pm. Last admission is at 5 pm. October to April: Saturday and Friday, 10:30 am to 5 pm. Last admission is at 4 pm |
| Admission: | RUB 400.00. Audio-guide: RUB 150.00 |
| Photo and video: | not allowed |
Bath Wing:
| | |
| --- | --- |
| Open: | May to September: Daily, 10:30 am to 6 pm. Last admission is at 5 pm. October to April: Saturday and Sunday, 10:30 am to 5 pm. Last admission is at 4 pm |
| Closed: | Wednesday |
| Admission: | RUB 400.00. Audio-guide: RUB 150.00 |
| Photo and video: | not allowed |