Marly Palace
Located in the western half of the Lower Park, the Marly Palace is a charming baroque mansion that was built on the orders of Peter the Great as an intimate retreat in the grounds of the Grand Palace. Peter's inspiration was the royal hunting lodge at Marly Le Roi, just outside Paris. Louis XIV had commissioned his residence there as a private, peaceful alternative to Versailles. Peter visited Marly Le Roi during his visit to France in 1717, and, when creating the "Russian Versailles" at Peterhof, he decided to have his own personal sanctuary built in the grounds.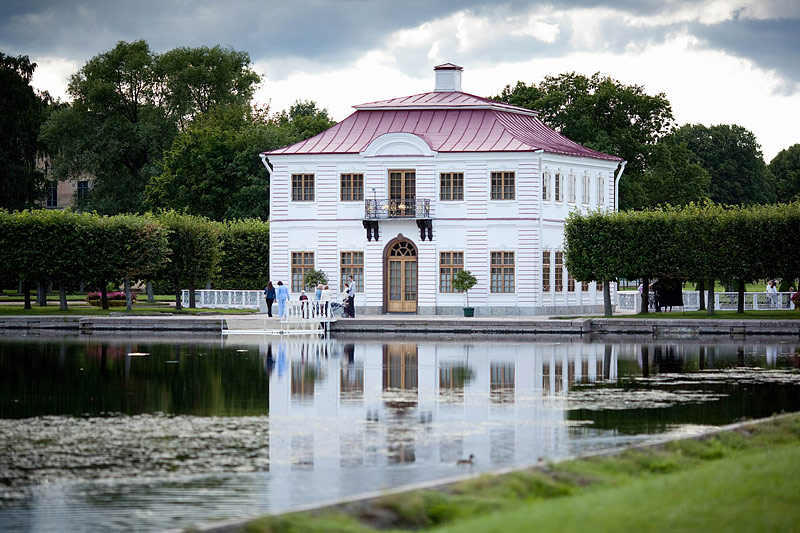 Marly Palace in Peterhof
This section of the park at Peterhof was the last to be developed during Peter's reign, and it began with the digging of the two ponds - one rectangular, one crescent shaped - that surround the Marly Palace. The ponds were stocked with carp and zanders for the royal kitchen. Work began on the ponds and the landscaping of the surrounding area in early 1720 and, later in the same year, on the house itself. Architect Johann Braunstein originally envisioned a single-storey building, but Peter was dissatisfied with the result, and ordered the addition of a second floor, completed in 1723. Despite this, the building has a pleasantly harmonious appearance - a simple, square baroque mansion with an air of serenity and comfort, accentuated by its multiple reflections in the still waters of the fishponds.
Peter had only two years to enjoy his retreat before his death. Marly was no longer used as a residence and, by the mid-18th century, it had become a store for Peter's personal effects, including his wardrobe, official gifts, and various pieces of furniture and art. Many items from this collection are still on display in Marly today. The interiors of the palace are kept as close as possible to the state they were in when Peter died, although they were entirely reconstructed in the late 19th century, when structural weaknesses entailed the rebuilding of Marly almost from scratch.
| | |
| --- | --- |
| Open: | May to September: Daily, 10:30 am to 6 pm. Last admission is at 5 pm. October to April: Saturday and Sunday, 10:30 am to 5 pm. Last admission is at 4 pm |
| Closed: | Monday |
| Admission: | RUB 150.00. Audio-guide: RUB 150.00 |
| Photo and video: | not allowed |