Cottage Palace and Alexandria Park
To the east of the main park at Peterhof lies an expanse of landscaped parkland in the English style, named after Alexandra Fedorovna, wife of Nicholas I. Originally divided amongst Peter the Great's favourites, including Alexander Menshikov, who began to build a palace here shortly before he was disgraced and exiled, the land was used as a royal hunting ground for most of the 18th century, and then left to go wild after the court moved to Tsarskoe Selo.
In 1825, the land was passed to Nicholas I, who commissioned Adam Menelaws, a Scottish architect and landscape gardener, to create an English-style estate with a "cottage" palace and home-farm. This was in part a concession to Alexandra, formerly Charlotte of Prussia, who found the pomp and grandeur of court life oppressive and intrusive. The Cottage Palace was completed in 1829, and became the permanent summer residence of the Tsar's family.
Menelaws' unusual design produced a building which is equal parts seaside villa, Gothic castle and English farmhouse, but nonetheless extremely elegant, with a number of charming decorative details. The palace's interiors bear witness to the private tastes not only of Nicholas and Alexandra, but of their children and grandchildren. Particularly impressive are the spectacular trompe l'oeil murals around the staircase, depicting gothic arches and vaults, and Nicholas's Naval Study, with superb views over the Gulf of Finland.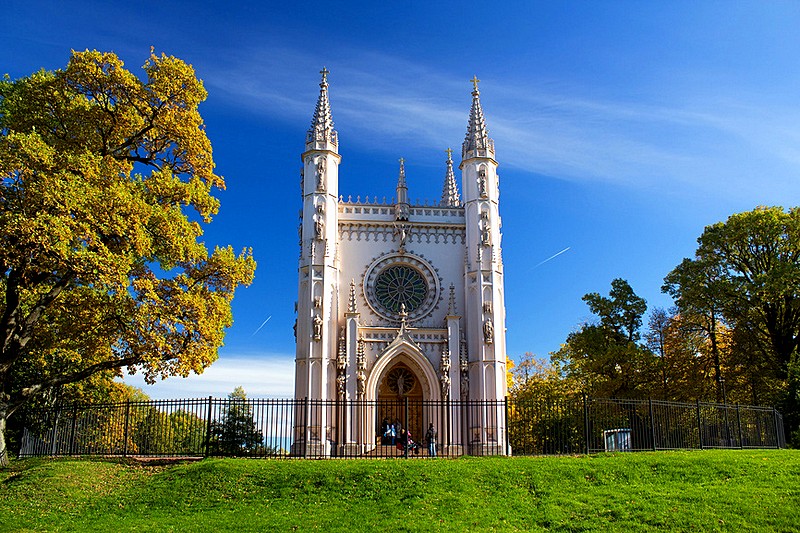 Gothic Cappella in Alexandria Park in Peterhof
The charming, rambling park around the Cottage Palace contains a couple of other interesting buildings, including the ruins of Nicholas's Farm Palace, where Alexander II enjoyed spending his free time, and the small, neo-gothic Alexander Nevsky Church, which was the later Romanovs' private chapel.
Alexandria Park:
| | |
| --- | --- |
| Open: | Daily, 9 am to 10 pm. |
| Admission: | 9 am to 5 pm: RUB 150.00. 5 pm to 10 pm: Free |
| Photo and video: | Free |
Cottage Palace:
| | |
| --- | --- |
| Open: | May to September: Daily, except Mondays, 10 am to 6 pm. Last admission is at 5 pm. October to April: Thursday, Saturday and Sunday, 10:30 am to 5 pm. Last admission is at 4 pm |
| Admission: | RUB 400.00 |
| Photo and video: | not allowed |
Gothic Capella (Chapel):
| | |
| --- | --- |
| Open: | May to September: Daily, except Mondays, 10 am to 6 pm. Last admission is at 5 pm. October to April: Prior booking required |
| Admission: | RUB 150.00 |
| Photo and video: | not allowed |