Leningrad Zoo
Leningrad Zoo is located in Alexander Park - of which it is effectively part - on the Petrograd Side. It was founded by two animal-lovers - Sofia and Julius Gerhardt - in 1865. Today it is the second largest Zoo in Russia (after Moscow Zoo), with 2,000 animals from 410 species.
In 1873 the Zoological Garden was taken over by Ernest Rost, who replenished its collection of animals, carried out repairs on all of its buildings and equipment, and made it into a profitable business by splitting it into two parts - zoological and commercial. The Zoo was used for circus performances and concerts by choirs and orchestras, and was also home to restaurants. The Zoo's increased profitability meant it could afford to expand its collection of animals - it gained giraffes, orang-utans, anteaters and African elephants - and create more pleasant living conditions and new enclosures for them. Rost left in 1897, and Zoo began to decline. In 1909 it was closed to visitors.
The Garden remained in desperate condition until 1918, when it was nationalized and began to be restored. A library was collected, research was carried out, and expeditions despatched to all corners of the globe.
The Zoological Gardens were significantly damaged during the Second World War - but even though the city's residents were themselves starving the Zoo's elephant always was fed. When the elephant was killed in a bombing raid in 1944, the whole city mourned. The Zoo closed during the middle of the War, but opened again in 1944. The animal collection gradually grew to include an Indian elephant, chimpanzee, giraffes, a hippo, and a rhino.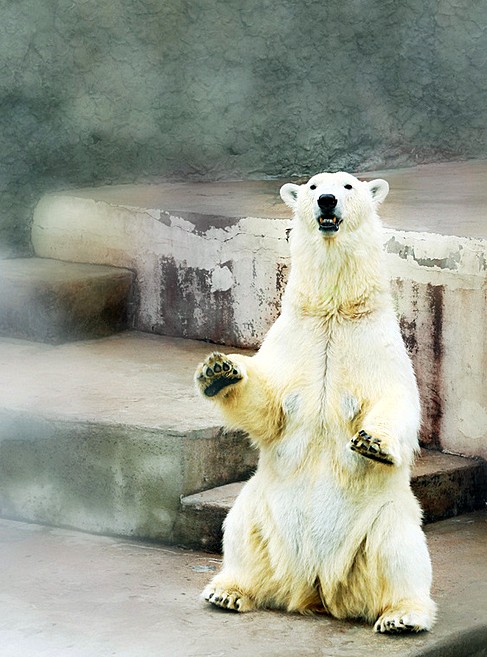 Polar bear at Leningrad Zoo
How to Get There:
The Zoo is located in Alexander Park between Gorkovskaya and Sportivnaya Metro stations. It's probably easier to get to from Gorkovskaya - turn left out of the metro and left again into the park, and just keep walking.
Timeline:
| | | |
| --- | --- | --- |
| 1865 | - | Sophie and Julius Gerhardt open public Zoological Garden in Alexander Park. |
| 1873 | - | Ernest Rost takes over the Zoological Garden. |
| 1909 | - | Zooological Garden declines; closed to public. |
| 1918 | - | Zoological Garden nationalized. |
| Spring 1944 | - | Zoological Garden partially restored after being destroyed during the war; work goes on through the year. |
| 1952 | - | Zoological Garden renamed Leningrad Zoo. |
| 1991 | - | Zoo decides to remain as Leningrad Zoo - even though Leningrad votes to return to being St. Petersburg. |
| | |
| --- | --- |
| Address: | 1, Aleksandrovsky Park |
| Metro: | Gorkovskaya, Sportivnaya |
| Telephone: | +7 (812) 232-8250 |
| Open: | Daily, 10 am to 7 pm. Last admission is at 6 pm. |
| Website: | http://spbzoo.ru/en/ |
| Admission: | Adult: RUB 500.00. Students: RUB 200.00. Children: RUB 100.00 |
| Photo and video: | free/included |
| Accessibility note: | Most areas of the zoo are wheelchair accessible. Entrance is via Exotarium. |