Sheremetev Palace (Museum of Music)
Standing on the banks of the Fontanka River, a few steps from Nevsky Prospekt, the Sheremetev Palace was once the centre of one of the largest aristocratic estates in St. Petersburg, bequeathed to Field-Marshal Boris Sheremetev in 1712 and extending beyond what is now Ligovsky Prospekt. In its prime in the late 18th and early 19th centuries, the Sheremetev Palace boasted not only extensive lands, but also its own hospital and theatre, where the Sheremetev's famous serf theatrical troupe and orchestra performed. The palace is also known as 'the Fountain House' for the opulent arrangement of fountains that once decorated its gardens.
The palace building dates to the 1740s, and was designed by Savva Chevakinsky and Fyodor Argunov, the latter from one of the Sheremetev's serf families. The elegant baroque facades, painted like much of central St. Petersburg in yellow and white, are set back from the Fontanka Embankment behind a magnificent wrought iron fence added by Geronimo Corsini in 1838. The Sheremetev Palace was home to several generations of the illustrious family, and each extended and adapted the buildings with the help of the leading architects of the day.
The Fountain House became one of the main cultural centres of St. Petersburg. The theatrical passion of Counts Petr Borisovich and Nikolai Petrovich Sheremetev created one of the finest theatres in 18th century Russia, and the latter went on to marry one of the stars of his opera, the leading soprano Praskovia Zhemchugova, in what became one of the most celebrated (and controversial) romances of the day. The palace was also the site of concerts and literary soirees with the participation of Vasily Zhukovsky and Alexander Turgenev among others.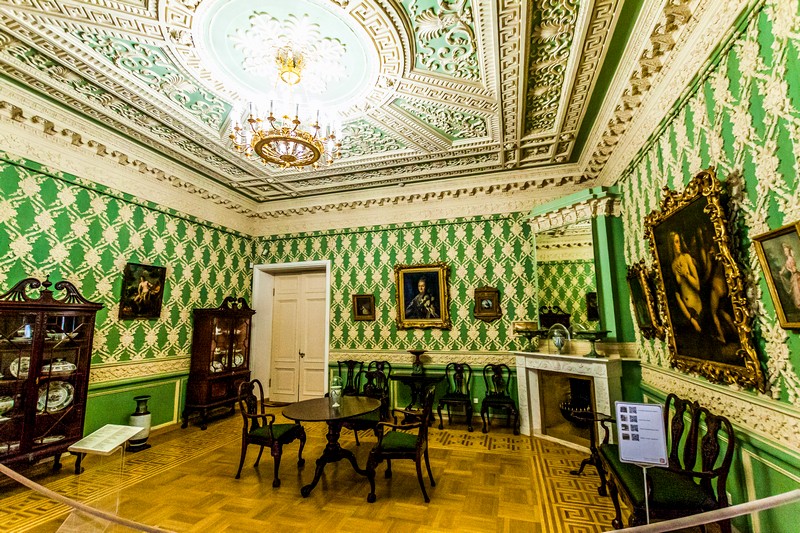 State rooms of the Sheremetev Palace
This history is reflected in the current use of the palace as part of the State Museum of Theatre and Musical Art, which has restored the facades of the building and uses it to house a collection of historical musical instruments. The southern wing of the palace also houses the Anna Akhmatova Memorial Museum, in the apartment where the great 20th century poet lived from the mid-1920s until 1952. The expression 'Fountain House' was first used in one of her poems.
| | |
| --- | --- |
| Address: | 34, Naberezhnaya Reki Fontanki |
| Metro: | Nevsky Prospekt / Gostiny Dvor |
| Telephone: | +7 (812) 272-4441 |
| Opening hours: | The Museum of Music is open daily 11 am to 7 pm. Last admission is at 6 pm. |
| Closed: | Tuesdays and the last Wednesday of each month |
| Website: | http://theatremuseum.ru/filial/sheremetevskiy_dvorec_muzey_muzyki |
| Admission: | RUB 250.00. Audio-guide: RUB 100.00 |
| Photo and video: | Photo: RUB 100.00 Video: RUB 200.00 |
| Accessibility note: | Limited access for wheelchair-bound visitors: only garden and the 1st floor. |
Dining near the Sheremetev Palace
RESTAURANTS:
Editors' picks