Razumovsky Palace
One of the few of the palaces and mansions remaining from 18th century in St. Petersburg, Razumovsky Palace is situated on the Moyka Embankment close to Nevsky Prospekt and is one of the city's finest estates. It got its name from Kirill Razumovsky, the great Hetman (Cossacks leader) of Ukraine and President of the Academy of Sciences. He was also the younger brother of Alexey Razumovsky, a favorite of the Russian Empress Elizabeth.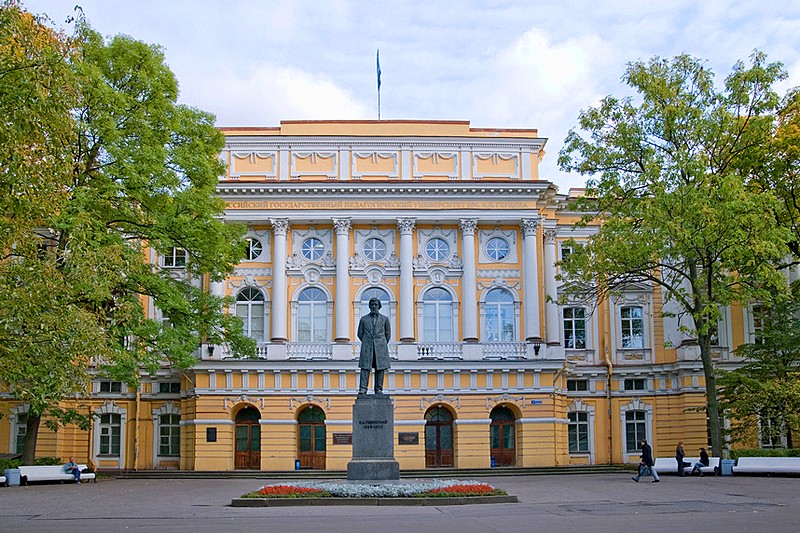 Razumovsky Palace (Herzen Pedagogical University) on the Moyka River
Before the Razumovsky Palace stood here, this site was owned by Count Gustav Reinhold Levenvolde, who built a wooden palace here. Razumovsky commissioned the architect Alexander Kokorinov to replace it with a new stone building. By 1766 the work was completed by Jean-Baptiste Vallin de la Mothe. The strictly symmetrical main facade of the building includes many finely traced bas-reliefs. The front courtyard of the building was separated from the embankment by a high stone wall with a monumental gate in the center. On the Kazanskaya Ulitsa side stand lattice fences designed by Andrew Voronikhin.
Razumovsky Palace was well known for its balls and masquerades. The Count arranged for alms-giving on public holidays which would draw in over two thousand people. At the end of the 18th century, the palace was bought by the State Treasury. It was used as a Foundling Hospital - for the care of disadvantaged children, orphans, foundlings, and the disabled. It then became the Orphanage Institute of Nicholas I.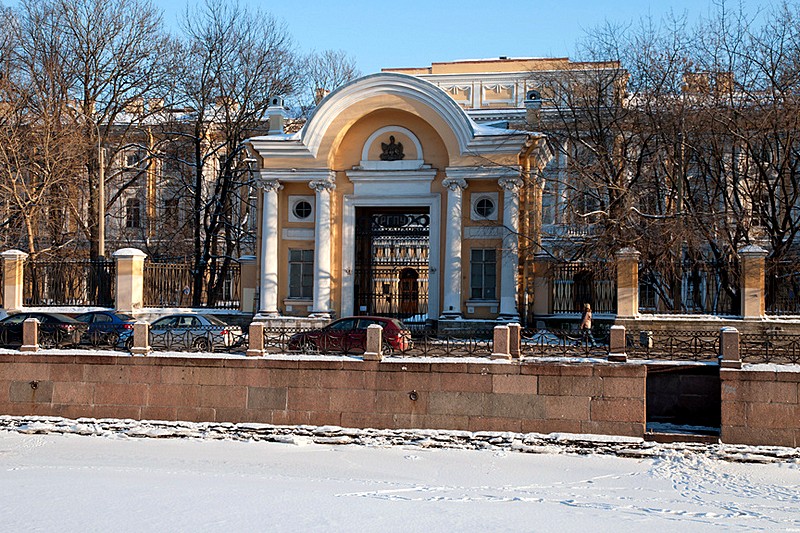 Main gate of the Razumovsky Palace
In 1903, it changed into Russia's first teacher training institution - the Imperial Women's Pedagogical Institute. In 1920, it was renamed the Leningrad Herzen Pedagogical Institute in honor of the "father of socialism", social critic and political philosopher Alexander Herzen. Since 1991, it has been the Herzen State Pedagogical University of Russia. In 1961, a monument honoring Konstantin Ushinsky, acclaimed as the founder of the science of pedagogy in Russia, was erected in front of the main entrance to the university. The building has undergone several internal reconstructions to meet its different functions over the years, and none of the original palatial interiors have survived.
Address:
48, Naberezhnaya Reki Moyki
Metro:
Nevsky Prospekt / Gostiny Dvor, Admiralteyskaya
Directions:
From Nevsky Prospekt / Gostiny Dvor Metro Stations, use the exit for the Griboedov Canal. Cross Nevsky Prospekt and walk right until you reach the Moyka River. Turn left along the embankment, and the Razumovsky Palace is the second building from Nevsky Prospekt.
From Admiralteyskaya Metro Station, turn right on exiting the metro, then left and right again onto Nevsky Prospekt. Cross the Moyka River and turn right along the embankment.
What's nearby?
Moyka River, Nevsky Prospekt, Stroganov Palace