The Marble Palace
Standing between Millionaya Ulitsa and the Neva River at the north-west corner of the Field of Mars, the Marble Palace is among the most impressive of St. Petersburg's former Imperial residences, and arguably the finest work of architect Antonio Rinaldi, a pioneer of neoclassicism in Russia.
The Marble Palace was originally built for Count Grigory Orlov, who as a young artillery officer had led the conspiracy to dethrone Peter III in favour of the Emperor's wife, the future Catherine the Great. Among the rewards for his support and counsel during the early years of her reign, construction began on the Marble Palace in 1768, and alongside Rinaldi many of the finest foreign and Russian craftsmen and sculptors of the day were employed to provide its intricately decorated interiors. The name of the palace comes from the fact that in total 32 different types of marble were used to create the exterior and interior ornamentation of the Palace.
Count Orlov gradually faded from influence and favour, and by the time of his death in 1783 - two years before the decoration of the palace was completed - he had long abandoned his magnificent St. Petersburg home. On order of Catherine, the palace was bought from Orlov's heirs into the Imperial Estates, and presented to Catherine's second grandson, Grand Duke Konstantin Pavlovich. It remained the St. Petersburg residence of junior members of the Imperial family until the October Revolution. In 1843, Grand Duke Konstantin Nikolayevich ordered major remodelling of the Marble Palace by the architect Alexander Briullov, who left only the Marble Hall and the Grand Staircase intact in their original form. Briullov retained the basic plan of the building, but created new interiors with gothic and renaissance styling.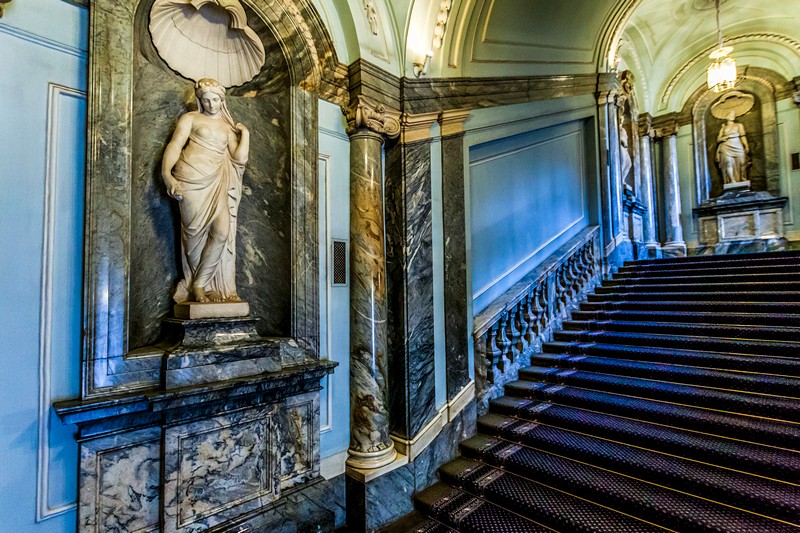 The main staircase of the Marble Palace
After the Revolution, the Marble Palace was used first to house the Academy of the History of Material Culture, and then from 1937 as the Lenin Museum (at which time the interiors on the second floor of the building were stripped of their original decor). In 1992, the palace was granted to the State Russian Museum, which has overseen massive renovation work and chosen the building as home of a permanent collection of modern art. There is also an exhibition devoted to the last owner of the palace, Grand Duke Konstantin Konstantinovich Romanov, who, as well as holding several prominent roles in government and administration including many years as President of the Academy of Sciences, was also a talented poet and friend to many of the key figures of the Silver Age of Russian Culture. The palace is also used to host a wide variety of temporary exhibitions.
| | |
| --- | --- |
| Address: | 5/1, Millionaya Ulitsa |
| Metro: | Nevsky Prospekt/Gostiny Dvor |
| Telephone: | +7 (812) 312-9196 |
| Opening hours: | Daily from 10am to 6pm (to 5pm on Mondays. Ticket offices close one hour earlier). |
| Closed: | On Tuesdays |
Dining near the Marble Palace
RESTAURANTS:
Editors' picks