Bezborodko Palace
This palace on Pochtamtskaya Ulitsa, a short walk from St. Isaac's Cathedral, was owned by one of the richest and most influential men in Russia in the second half of the 18th century, the prominent statesman Alexander Bezborodko (1747-1799). Berzborodko was born to fairly lowly rank in Ukraine, and rose to become the chief architect of Catherine the Great's foreign policy thanks to his phenomenal memory and exceptional diplomatic skills. Paul I made him Chancellor of the Russian Empire.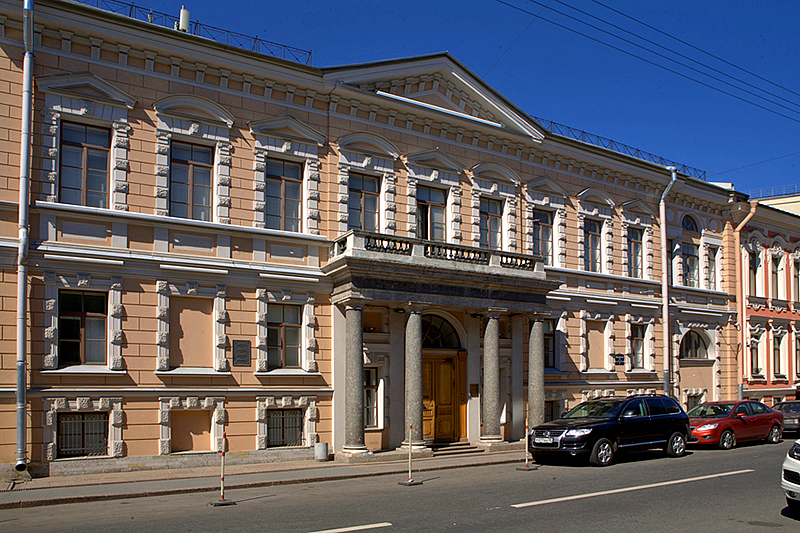 Bezborodko Palace, now the Alexander Popov Communications Museum
The palace was built for him in the 1780s by the renowned neoclassical architect Giacomo Quarenghi. Its exterior may be modest by the decorative standards set by other classical palaces, but there was nothing modest about its interiors. Particularly striking were the luxurious Blue Drawing Room, the Grand Hall, and the Picture Gallery containing the Chancellor's rich art collection. The Ballroom has Corinthian columns, painted ceilings and stucco moldings and is considered one of the finest examples of Russian neoclassical interior design.
Bezborodko was also instrumental in reforming the Russian banking and postal systems, so it is fitting that, in 1829, the building was purchased by the Postal Service (Bezborodko had overseen the construction of the Main Post Office building next to the palace 1782-189). To adapt to their new function, the palace interiors were significantly reconstructed, and in the 1870s the facades were also redesigned in the Renaissance Revival style, leaving only Quarenghi's central portico and the window embrasures.
Since 1924, the building has been home to the A.S. Popov Museum of Communications, giving visitors the chance to see some of the palace interiors, as well as a fascinating collection of technological artifacts.
| | |
| --- | --- |
| Address: | 4, Pochtamtsky Pereulok |
| Metro: | Admiralteyskaya |
| Directions: | Exit Admiralteyskaya Metro Station and turn left then left again onto Malaya Morskaya Ulitsa. Follow the road to St. Isaac's Square and walk directly across the square onto Pochtamtskaya Ulitsa. The palace is at the end of the first block on your right. |
| Opening hours: | Tuesday to Saturday, 10:30 am to 6 pm. Last admission is at 5 pm. |
| What's nearby? | Bolshaya Morskaya Ulitsa, Main Post Office, St. Isaac's Square, St. Isaac's Cathedral, Museum of the History of Religion, Kochubey Mansion, House of Composers, Moyka River, Konnogvardeysky Boulevard |