Museum of Hygiene
The concept for the Museum of Hygiene was dreamt up in 1877 after the success of a Russian exhibition in Brussels that made up part of a congress entitled "On Issues of Hygiene and the Avoidance of Danger". However, it wasn't until 1919 that the project was implemented by the Soviet of People's Commissars as part of a drive to educate the populace on matters of health and personal hygiene.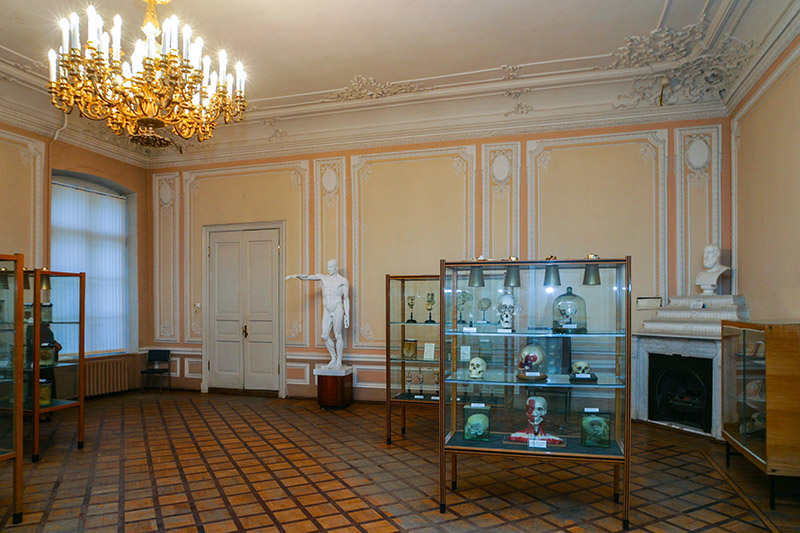 Exhibits of the Hygiene Museum in the Shuvalov Mansion
Among the exhibits are pictures, models and waxworks spread across rooms devoted to themes such as human anatomy, infectious diseases and bad habits. The displays are often graphically cautionary, and the display about STD's is particularly grizzly, but there is plenty here to rouse more morbid interests, and it's an educational experience that's bound to appeal to children's curiosity (although be prepared for awkward questions from the offspring afterwards). The workings of the human body are demonstrated using moving models of a glass man and woman and a variety of internal organs. Not least of the museum's bizarre attractions is the chance to see Pavlov's dog (the original, stuffed, naturally).
The museum also has a cinema, which hosts lectures on contemporary hygiene issues like smoking, drug abuse and AIDS. The museum is housed in the former palace of the Counts Shuvalov, built by Chevakinskiy in 1755.
| | |
| --- | --- |
| Location: | 25, Italianskaya Ulitsa |
| Metro: | Nevsky Prospekt or Gostiny Dvor |
| Telephone: | +7 (812) 595-8908 |
| Open: | Monday to Friday, 10 am to 6 pm. Last admission at 5:30 pm. Saturday, 11 am to 6 pm. Last admission at 5:30 pm. |
| Website: | http://gcmp.ru/museum/ |
| Admission: | 90.00 RUB |
| Photo and video: | Photography not allowed. |
| Accessibility note: | Sorry, this museum is not wheelchair accessible. |