Museum of Applied Art
This is one of St. Petersburg's best-kept secrets! Located only a block away from the Mikhailovsky Castle and the Field of Mars, the Applied Art Museum is little known and rarely included in tourist itineraries. Yet the museum, which was established to provide education and stimuli to future generations of Russian artists and designers, is a real treasure for anyone interested in the fine arts and antiques. Its collection of over 30 thousand exhibits includes various decorative arts and crafts, including furniture, porcelain, chandeliers, tiled stoves, artistic metalwork, bass relieves and carvings.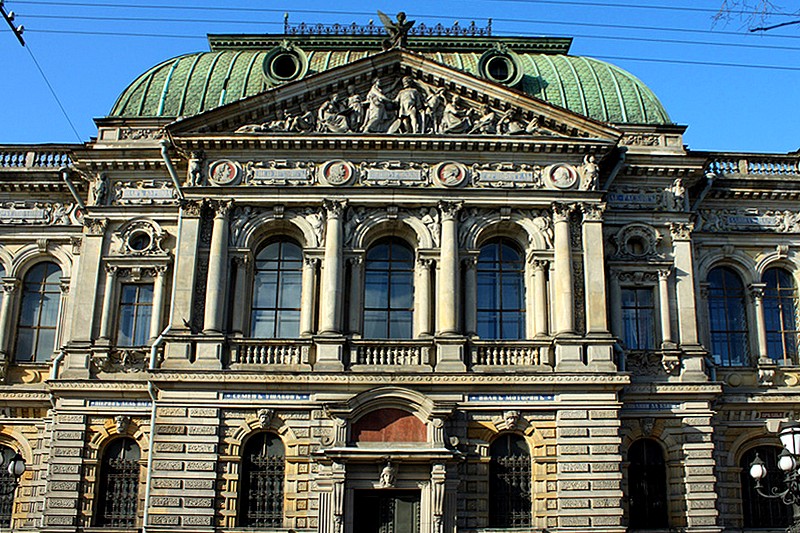 Stieglitz Applied Arts Museum
The museum was established in 1878 as a part of the Baron Stieglitz School of Technical Drawing, which in the 20th century evolved into the Artistic Industrial Academy.
The museum's building is a masterpiece in its own right and was built in eclectic style by the architect Maximilian Mesmacher, specifically to house the museum's collection. The building's huge Grand Hall, incorporating an impressive glass roof, recently underwent an extensive program of restoration. Some of the museum's elegant smaller halls, including the Antique, Medieval and Ancient Russian rooms are definitely worth a look even if you don't plan on staying to browse through the museum's main collections.
Finding the museum tucked away on the premises of the Academy can be quite a challenge! Visitors need to take the main entrance into the Academy, located at Solyanoy Pereulok 13, then go up the grand staircase, turn right, walk along the corridor and take the first narrow staircase on your left down to the next floor. The museum's entrance is on the lower landing of the staircase and the ticket counter is just on the left as you walk in. As with most Russian museums, all visitors are asked to leave coats and larger bags in the cloakroom. Don't be surprised to see dozens of students throughout the museum and the Academy, busy sketching the museum's exhibits as well as the magnificent building in which they are housed.
| | |
| --- | --- |
| Location: | 13-15, Solyanoy Pereulok |
| Metro: | Chernyshevskaya |
| Telephone: | +7 (812) 273-3258 |
| Open: | Tuesday to Saturday, 11am to 4:30pm. Last admission is at 4pm. |
| Closed: | Sundays, Mondays and the last Friday of each month. |
| Website: | http://www.stieglitzmuseum.ru/ |
| Admission: | RUB 60.00 |
| Photo and video: | Photo: RUB 100.00. Video: RUB 200.00 |
| Accessibility note: | Sorry, this museum is not wheelchair accessible (stairs). |
Dining near the Museum of Applied Art
RESTAURANTS:
Editors' picks