The Horse Tamers
Decorating the Anichkov Bridge, which carries Nevsky Prospekt across the Fontanka River in the very centre of St. Petersburg, the four statues that comprise the sculptural group The Horse Tamers are one of the most strikingly beautiful and immediately recognizable monuments in all of St. Petersburg.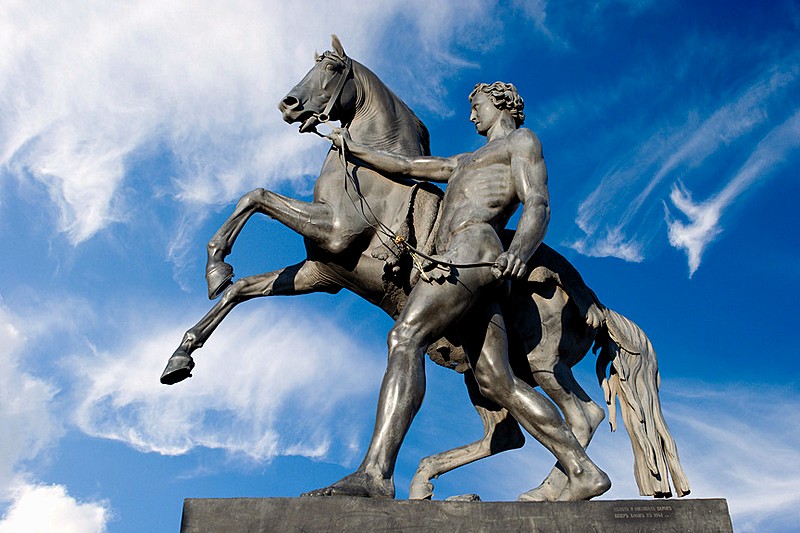 One of the four horse statues at Anichkov Bridge
Their sculptor, Baron Peter Clodt von Jurgensburg, a former artillery officer of Baltic German descent, had a particular affinity for animals, especially horses, which made him a favourite with Emperor Nicholas I. In the 1830s, he prepared two statues - Horse with Walking Youth and Youth Taking a Horse by the Bridle - for the quay in front of the Academy of Fine Arts. However, that site was chosen for the Ancient Egyptian Sphinxes brought to St. Petersburg in 1834, and Clodt proposed mounting his statues on the western end of Anichkov Bridge.
The sculptures were considered so fine that they were soon sent to King Friedrich Wilhelm IV of Prussia as a gift, and a second pair were cast in bronze for King Ferdinand II of Sicily (they can still be seen in front of the Royal Palace in Naples).
St. Petersburg was left with only plaster copies until 1851, when bronze castings of the two original statues, plus two further statues on the same theme, were mounted at the four corners of the bridge. All four statues were modeled on the same Arabian stallion, called Amalatbek, and it was Clodt's daughter who got the horse to prance while her father sketched.
The statues have twice been removed from their pedestals. Once in 1941, to protect them from damage during the Siege of Leningrad, and once in 200 to allow restoration work before St. Petersburg's tercentenary celebrations.
| | |
| --- | --- |
| Metro: | Gostiny Dvor / Nevsky Prospekt |
| Getting there: | From the eastern exits to either metro station (for Sadovaya Ulitsa from Gostiny Dvor or for Mikhailovskaya Ulitsa from Nevsky Prospekt), walk east along Nevsky Prospekt around 300m to Anichkov Bridge. |
| What's nearby? | Nevsky Prospekt, Anichkov Bridge, Anichkov Palace, Beloselskiy-Belzerskiy Palace, Fontanka River |