The Sphinxes
The two magnificent sphinxes on Unversitetskaya Naberezhnaya (University Embankment), in front of the Academy of Fine Arts, are roughly 3,500 years old and are considered among the finest examples of Ancient Egyptian colossal sculpture kept outside Egypt. They once stood on the Alley of Sphinxes in front of the tomb of Pharaoh Amenhotep III. For nearly two centuries, however, it has been the waters of the River Neva rather than the Nile that reflect in their bottomless eyes.
The sphinxes were discovered during excavations in the 1820s, and were soon written about by the great French Egyptologist Jean-Francois Champollion. At the beginning of the 1830s, they were bought in France on behalf of the Russian Emperor and shipped to St. Petersburg. Carved from pink granite, the sphinxes weigh around 23 tons each, and the great neo-classical architect Konstantin Ton designed their pedestals and the granite pier, with its bronze lamps and griffins.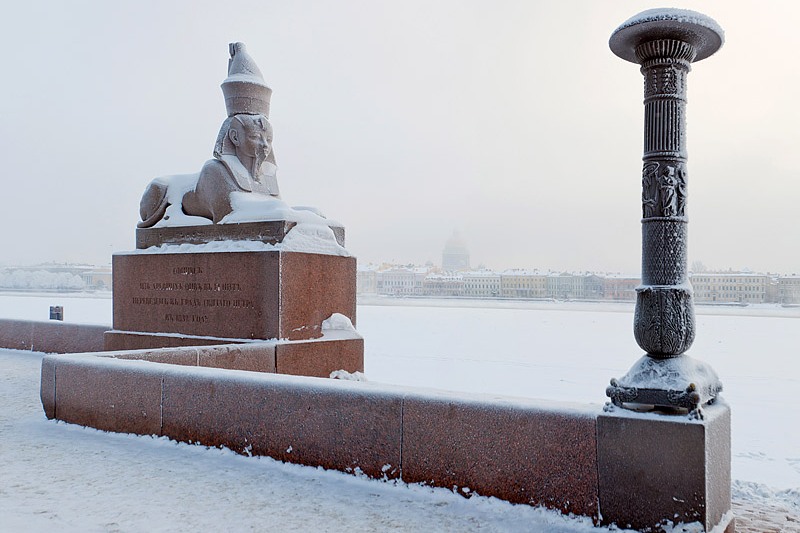 Ancient Egyptian sphinx covered with snow
The sphinxes have been restored several times during their sojourn in St. Petersburg (most recently in 2003), and the suggestion has been raised of moving them into the Hermitage to protect them from the harsh northern climate. For now, however, they remain among the greatest monuments of the city, a piece of ancient history on the banks of the River Neva.