Monument to Peter the Great (opposite the Mikhailovsky Castle)
The impressive bronze monument to Peter the Great sitting on a pony was erected in front of the Mikhailovsky Castle in 1800.
Renowned Italian sculpture Carlo Rastrelli prepared the model of the sculpture before Peter the Great's death in 1725. But the sculpture's casting was only completed between 1745 and 1747, and the monument remained in a local building warehouse and was not erected for half a century.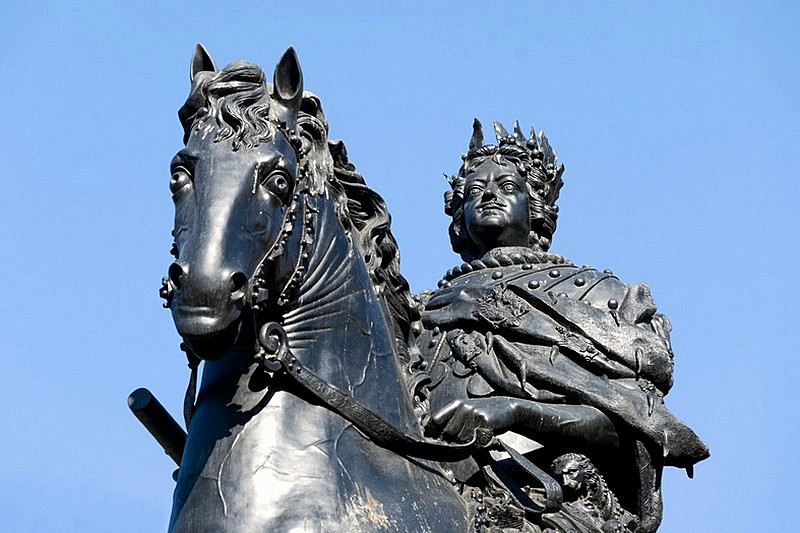 Monument to Peter the Great at St Michael's Castle
The monument to Peter the Great has an especially beautiful silhouette and thanks to a high socle clearly and distinctly stands out from the background of the sky. Moreover, the light shades of marble, which make up the monument's pedestal, contrast nicely with the dark bronze monument.
Rastrelli succeeded in sculpting a particularly impressionable and powerful image of Peter the Great.
The monument's pedestal faced with green, red and white-shaded Karelian marble is decorated with two bronze bas-reliefs of the Battles of Poltava and Hango, and also an allegorical composition with trophies.
Russian victories at Poltava and off Hango, Finland helped Russia become the dominant power in the north of the continent, establish itself on the Baltic, gain its "window into Europe" and finally become an Empire.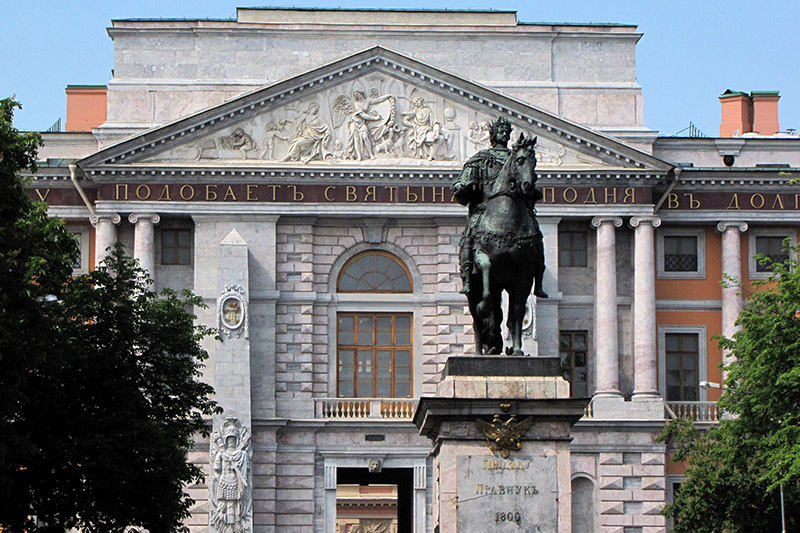 Monument to Peter the Great opposite St Michael's Castle
Peter the Great led his troops to both victories.
On July 8, 1709 Peter the Great led his troops to a major victory which finally destroyed the Swedish army.
Off Hango, Finland on July 27, 1714 the Russian Navy under the command of Peter the Great routed the Swedish Navy and captured all 10 of the enemy's ships in its first major victory.
The statue of Peter I was removed from its pedestal at the beginning of WWII and sheltered from the two-and-a-half year German siege. The monument was restored in 1945.
Dining near the Monument to Peter the Great (opposite the Mikhailovsky Castle)
RESTAURANTS:
Editors' picks