Monument to Maxim Gorky on Kronverkskiy Prospekt
Maxim Gorky, the father of Socialist Realism, lived on Kronverkskiy Prospekt from 1914 until 1921, when illness and his increasingly strained relations with the Bolshevik regime forced him to quit Russia for Italy.
Although Gorky could never make proper peace with the Soviet authorities, by whom he was alternately tolerated, wooed, and persecuted, his death in 1936 allowed the Stalinist government to finally resolve the conflict between his phenomenal reputation as a popular champion of the socialist cause and his fiercely moral criticism of Bolshevik repression by rewriting his biography and celebrating him as an unambiguous supporter of the Revolution.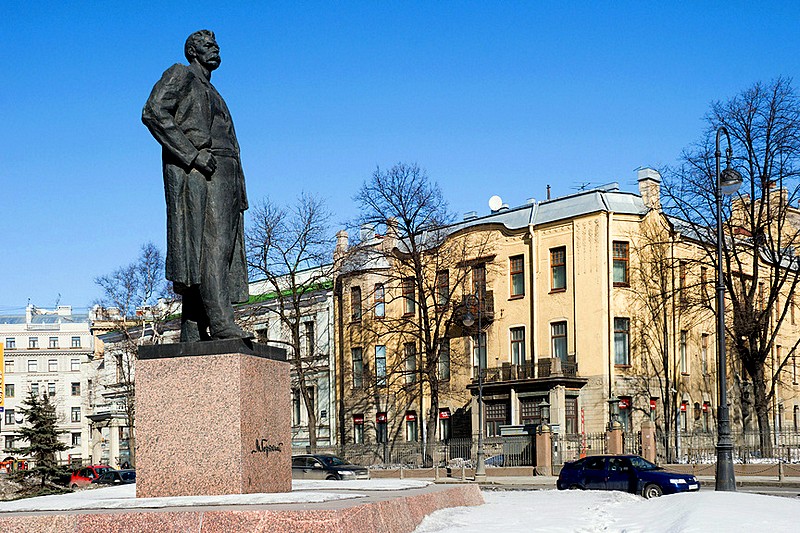 Monument to Maxim Gorky (author) on Kronverkskiy Prospekt
Both Stalin and Molotov were among the pallbearers at Gorky's funeral, and soon afterwards a competition was announced for designs of a monument in Leningrad to honour the great soviet writer. However, the project suffered delays, and it was only in the 1950s that this design by sculptor Vera Isaeva was approved. Unveiled in 1968 on the centenary of Gorky's birth, the statue shows the writer in a relaxed pose, a few steps from the metro station that bears his name and the Alexandrovskiy Park, where he once took walks in the company of Feodor Chaliapin, Ivan Bunin and Alexander Kuprin, amongst others.
| | |
| --- | --- |
| Metro: | Gorkovskaya |
| Getting there: | The monument is directly opposite the metro station. |
| What's nearby? | Kronverkskiy Prospekt, Kamennoostrovskiy Prospekt, Alexandrovskiy Park |
Dining near the Monument to Maxim Gorky
RESTAURANTS:
Editors' picks