Monument to Fyodor Dostoyevsky
St. Petersburg is often times referred to as Dostoyevsky's city. The great Russian novelist spent most of his adult life here and wrote some of his most famous works here including The Brothers Karamazov and Crime and Punishment. Moreover, the city itself, including the landscape and climate, act as an important backdrop in many of his works.
Ironically, until 1997 there was no official monument to the writer in the city. Many say this was do to a lack of initiative on the part of city planners and a lack of money.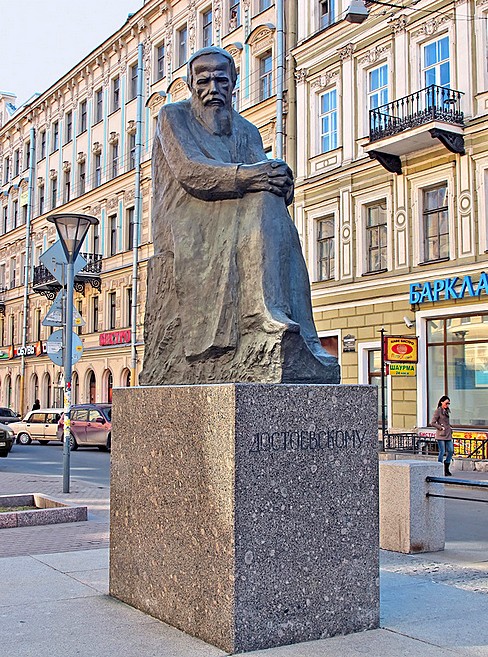 Statue of the writer Fyodor Dostoevsky on Vladimirskaya Ploshchad and Bolshaya Moskovskaya Ulitsa
In fact, in 1988, the director of the Dostoyevsky Museum suggested moving a bust of Dostoyevsky sculpted by the local artist Lyubov Kholina out of the writer's museum-apartment and into a garden by Vladimirskaya Cathedral. The move was seen as a way to bring the writer's exhibit out into the open air and into modern life. But before the bust was installed in the garden, plans were already under way to build a larger monument to the great writer, which was unvieled nine years later.
The sculptor Kholina also won a local competition for the design of the sculpture for the Dostoyevsky monument. Her project beat out a design of the gifted writer with his hat off by artist Shevchenko, which he planned to erect on Sennaya Ploshchad.
Kholina wanted her winning r memorial design erected in the area where Krukhov Canal meets Canal Griboedova in an especially picturesque part of St. Petersburg where Dostoyevsky set his popular novel "White Nights." However, it was decided that the memorial should be erected on Vladimirskaya Ploshchad across from the beautiful Vladimir Cathedral and where it was finally unveiled in May 1997 with the city mayor, dignitaries, celebrities, church officials and relatives of the writer taking part in the opening ceremony.
Proponents of the location say the monument's location relative to the cathedral creates a wonderful architectural ensemble increasing one's attention on the impressive monument and the beautiful cathedral. They also say the location is symbolic because it is also closer to the museum-apartment and symbolic because it is in the neighborhood where Dostoyevsky began and ended his illustrious writing career.
Opponents say the cathedral and adjacent buildings dwarf the monument and lessen the monument's impact on the surrounding area.
Regardless of the location, the monument nevertheless offers a powerful depiction of the writer. Its unique and modern design show the talented novelist sitting thoughtfully with his hands folded on one leg, which is laid over the top of other leg. The image of Dostoyevsky seems to be appropriately studying the people he wrote such much about. The writer's eyes seem especially penetrating. His forehead shows a scowl and his eyebrows are slightly knit. There is no chair, so as perhaps not to take away from the aura of the man.
Dining near the Church of the Monument to Fyodor Dostoyevsky
RESTAURANTS:
Editors' picks