Chizhik Pyzhik
Chizhik Pyzhik, an 11-centimeter statue of a siskin, was installed near the Summer Garden in 1994, on the site of the former Imperial Legal Academy, founded by Prince Pyotr Oldenburgsky in 1835. The Academy's students wore green and yellow uniforms that apparently made them look like siskins. Their habitual - clandestine - visits to a well-known local hostelry led to the Petersburg folk-song, "Chizhik Pyzhik, where've you been? On Fontanka, drinking vodka."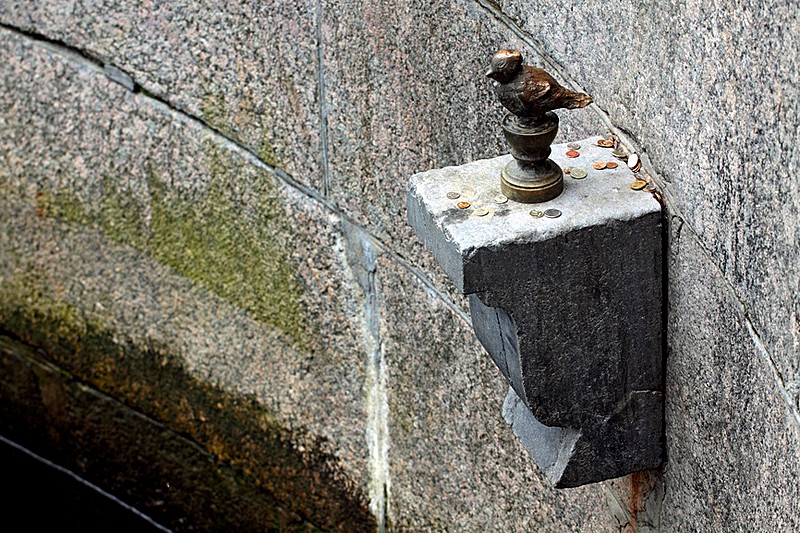 Chizhik-Pyzhik - statue of a songbird on the Fontanka River Embankment
The sculptor of this miniature masterpiece, the Georgian master Rezo Gabriadze, said of his creation that, "Chizhik Pyzhik helps students to get through unhappy love-affairs and get around on public transport without having tickets."
Local tradition suggests that anyone who can toss a coin so that it lands on the statue without falling into the water is in line for some good luck. However, the statue itself has not been so fortunate, and has been stolen several times. After the last occasion, in 2002, the staff of the Museum of Urban Sculpture made a copy from designs kept in the museum. Now, the museum apparently keeps several copies of Chizhik Pyzhik in stock - just in case.