Monument to Catherine the Great
This monument to Catherine the Great was unveiled in 1873. The Empress was adored by the people of St. Petersburg for all her efforts to improve the life and education provided by the city and her reign has long seen been known as the "golden age" of Russia. The statue of Catherine is surrounded by delicately carved figures of the most prominent individuals of her reign: politicians and poets, military men and courtiers. The monument is located in the middle of a small, grass-covered square, just off Nevsky Prospekt, which is lined by the Anichkov Palace, the Alexandrinsky Drama Theater and the Russian National Library. As one of the country's most enlightened monarchs, Catherine could not have chosen a better spot herself.
The monument was designed by the Russian artist M.O. Mikeshin and created by the best sculptors and architects of the day. Catherine the Great is dressed in her official gown and holds a scepter in her right hand and an olive wreath in her left hand. The pedestal is decorated with the symbols of royal power. Among the dignitaries, who's likenesses have been carved on the statue's pedestal, are Alexander Suvorov, perhaps the most famous general in Russian history, Prince Potiomkin, the general and politician, Ekaterina Dashkova, the first woman to chair the Russian Academy of Sciences (in the 18th century!!!) and the celebrated poet Gavrila Derzhavin.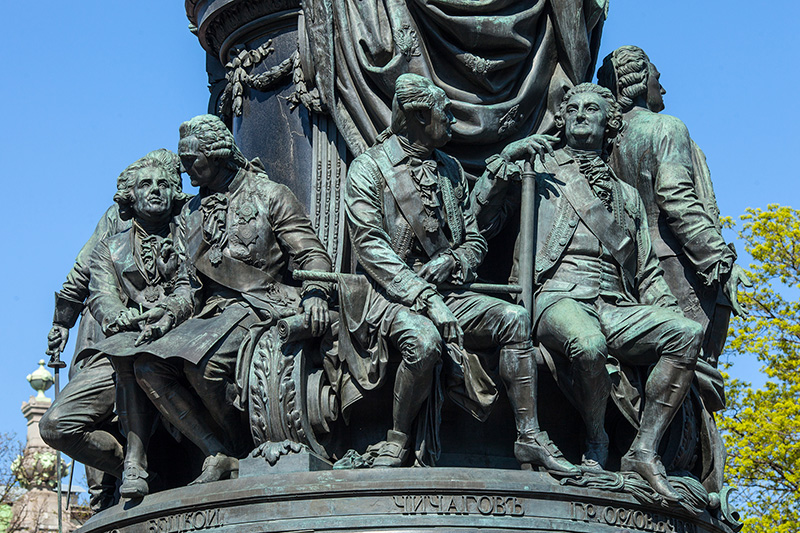 Decorated pedestal of the Monument to Catherine the Great
| | |
| --- | --- |
| Where: | Ploshchad Ostrovskovo, just off Nevsky Prospekt |
| Metro: | Gostiny Dvor |
Dining near the Monument to Catherine the Great
RESTAURANTS:
Editors' picks