Vollenweider Mansion
The Vollenweider Mansion is one of the earliest and most prominent examples of Art Nouveau architecture in St. Petersburg. Many people still refer to it as the ideal suburban residence. The house is superbly placed in the surrounding landscape, using the leafy parkland and canals of Kamenny Island to create a fairytale mystique that contrasts with the house's obvious cozy opulence. Clearly influenced by the National Romantic movement in Finland and Sweden, the house combines medieval accents, particularly the soaring roof of the central tower, with flowing asymmetric forms and roughly practical building materials.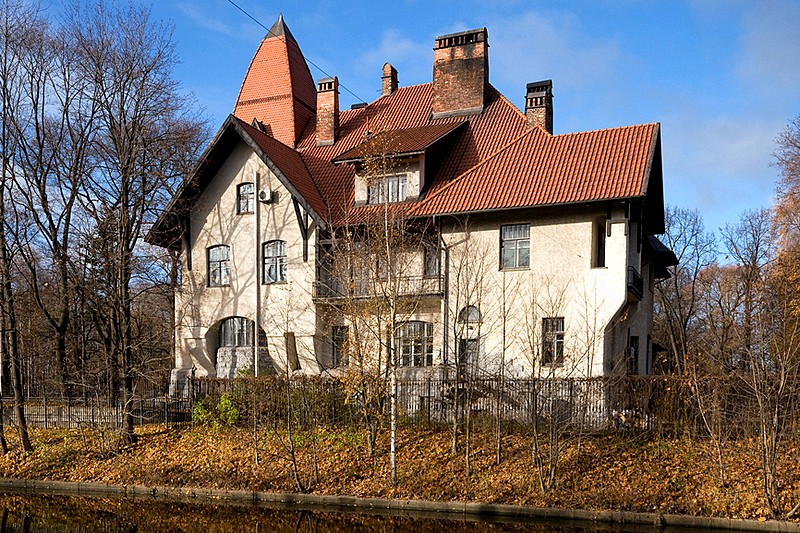 Vollenweider Mansion on Kamenny (Stony) Island
The house was built by the court architect Roman (Robert-Friedrich) Melzer in 1905 for the Swiss tailor Edward Vollenweider, a supplier of the Imperial Court. Other interesting modernist mansions of St. Petersburg are located nearby, including the Gausvald Dacha. In Soviet times, the mansion was used as a sanatorium and in the 1990s was home to the Consulate-General of Denmark. The mansion, along with several houses on Kamenny Island, became well known throughout the Soviet Union as a location for Leningrad filmmakers who needed a "European" setting. Today, the mansion's interior decorations are partially preserved, including the ornamental plasterwork, marble fireplaces with mirrors, stained glass windows, and stove.
| | |
| --- | --- |
| Address: | 13, Bolshaya Alleya Kammenogo Ostrova |
| Metro: | Ploschad Lenina |
| Getting there: | Exit Ploshchad Lenina metro station, turn left on Arsenalnaya Naberezhnaya, left on Shosse Revolutsii, and Bolsheokhtinsky Prospekt. |
| What's nearby? | Neva, Yelagin Island, Krestovsky Island |