Troekurov House
Troekurov House on Vasilevsky Island is one of the oldest surviving stone buildings in St. Petersburg. According to some experts, the Troekurov House is the second stone building in the city, coming after only the Menshikov Palace. It was built in 1721 and belonged to Peter the Great's steward, Alexey Troekurov. The construction of the house is attributed to Domenico Trezzini, the first architect of St. Petersburg, because the building fits his template for the model houses that were constructed to house the first citizens of Peter's new city. This style is now called Petrine baroque. This particular example of the style is extremely modest however: it is a one-story house with a half-basement, a mezzanine covered with red tiles, and windows decorated with sculpted reliefs.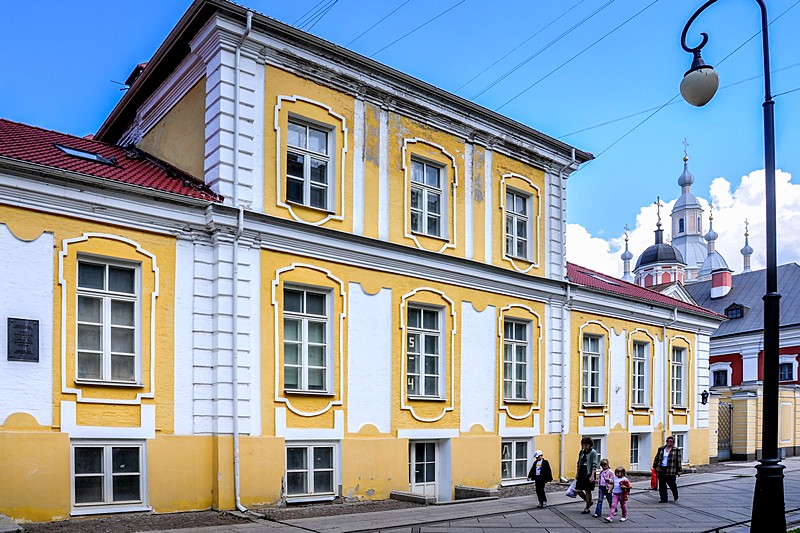 Troekurov House on Vasilyevskiy Island
Since then, the house has gone through many owners. At one point it was the official residence of the vice-governor of St. Petersburg and later a children's shelter. In 1960 the building was supposed to be demolished, but a group of enthusiasts from the Academy of Fine Arts was able to not only save it from demolition but also restore it to its original appearance. In 2007, another threat came when plans arose to build a hotel in its place, but at the last second this dubious project was rejected. Today, the future of the Troekurov Home is still up in the air, so hurry to see one of the St. Petersburg's first houses.
| | |
| --- | --- |
| Address: | 13, 6-ya Liniya (Vasilievsky Island) |
| Metro: | Vasileostrovskaya |
| Getting there: | Exit Vasileostrovskaya Metro Station and turn right around the corner onto 6-ya Liniya. |
| What's nearby? | Bolshoy Prospekt VO, Andreevsky Market, St. Andrew Cathedral, Church of the Three Hierarchs |