Kschessinska Mansion
This exemplary model of art nouveau - or more accurately northern style moderne - architecture was built 1904-1906 by Alexander von Hohen for the ballerina Mathilde Kschessinska. A prima ballerina assoluta at the Imperial Ballet (now the Mariinsky Theatre), Kschessinska owed her renown and her considerable wealth not only to her unquestionable dancing talent, but also to her romantic affairs with three Grand Dukes of the Romanov family, including the future Tsar Nicholas II.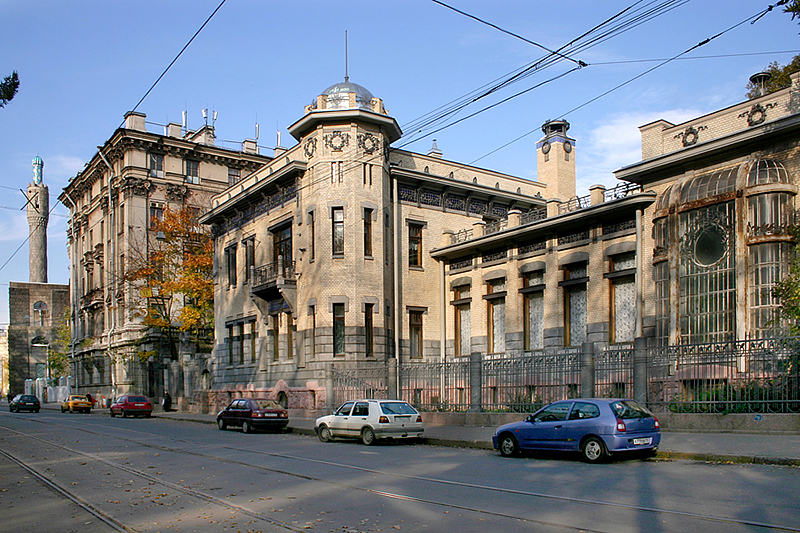 Kschessinska Mansion, now the Museum of Political History
The mansion thoroughly reflected not only the aesthetic fashions of the day, but also the personal tastes of Kschessinska. It consists of a series of connected structures of different dimensions that combine into an exquisitely asymmetrical whole. The mansion consists of two enfilades of reception rooms and numerous domestic quarters. In decorating the building, a wide range of materials were employed: red and gray granite, tapestry brick, decorative metalwork, and coloured maiolica tiles. Among the auxiliary buildings, it is worth noting the garage and the cowshed. Kschessinska was known to have kept a large number of domestic animals, including a decorative pig.
Kschessinska's popularity and position meant that many of the most prominent members of Petersburg society were guests at the mansion, including Feodor Chaliapin, Vaslav Nijinsky, Tamara Karsavian, and Anna Pavlova. In just a few months in 1917, however, the Kschessinska mansion changed from a centre of the St. Petersburg's demimonde to a hotbed of revolutionary activity. Warned she was in imminent danger Kschessinska herself fled for France on 27 February, where she later married Grand Duke Andrey Vladimirovich, cousin of Nicholas II and probably the father of her teenage son, and continued to dance until the age of 64, as well as setting up a ballet school that taught several future stars including Dame Margot Fonteyn.
Within two days of her departure, her beautiful mansion had been seized by revolutionary soldiers and became the headquarters for the Central Committee of the Russian Social Democratic Workers' Party (the Bolsheviks) and the editorial offices of party newspaper Pravda. On his return from exile in Finland, Vladimir Lenin also began to work in the house (as did Josef Stalin and Grigoriy Zinoviev), and the balcony facing Kronverkskiy Prospekt became the podium for some of his most famous speeches. It was thanks to this that, forty years later, having been passed through the hands of a number of different government departments and institutions, the Kschessinska Mansion became home to the Museum of the October Revolution, which moved there from the Winter Palace in 1955.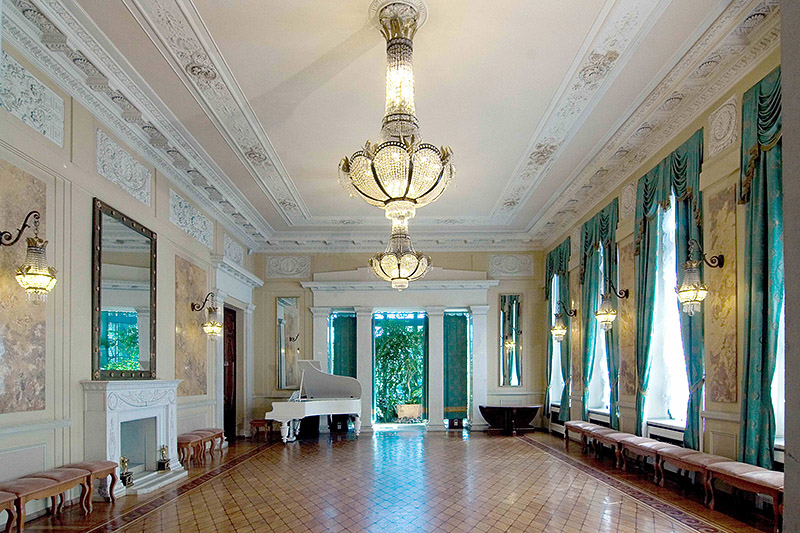 The White Hall of the Kschessinska Mansion
Renamed the Museum of Political History after the fall of the Soviet Union, it has become one of the most fascinating and innovative museums in St. Petersburg, providing a frank, sensitive and slightly wry examination of Russia's turbulent recent history. That and the opportunity to see inside this fabulous building make it doubly recommended for a visit.
| | |
| --- | --- |
| Address: | 2, Ulitsa Kuybysheva / 1, Kronverkskiy Prospekt |
| Metro: | Gorkovskaya |
| Getting there: | From Gorkovskaya Metro Station, cross Kamennoostrovsky Prospekt using the second pedestrian underpass to your right. Continue right along Kronverksky Prospekt (following the tramlines) past the St. Petersburg Mosque until you reach the end of the street. The museum is on your right. (5 minutes) |
| What's nearby? | Kamennoostrovsky Prospekt, St. Petersburg Mosque, Troytskaya Ploshchad (Trinity Square), Peter and Paul Fortress |