Kochubey Mansion on Furshtatskaya Ulitsa
This Art Nouveau mansion was built in the early 20th century and belonged to the noble Kochubey family, who owned several grand houses in St. Petersburg. Today it is one of the few mansions of the era that has been almost completely restored with all of the original interiors and decor. Even its stoves, fireplaces, antique clocks and lamps are in working order. In 2010, over 1000 sq.ft. of special tiles were restored on the facade, service stairs, stoves, and other parts of the interior. This is perhaps the best example of an Art Nouveau mansion in St. Petersburg today.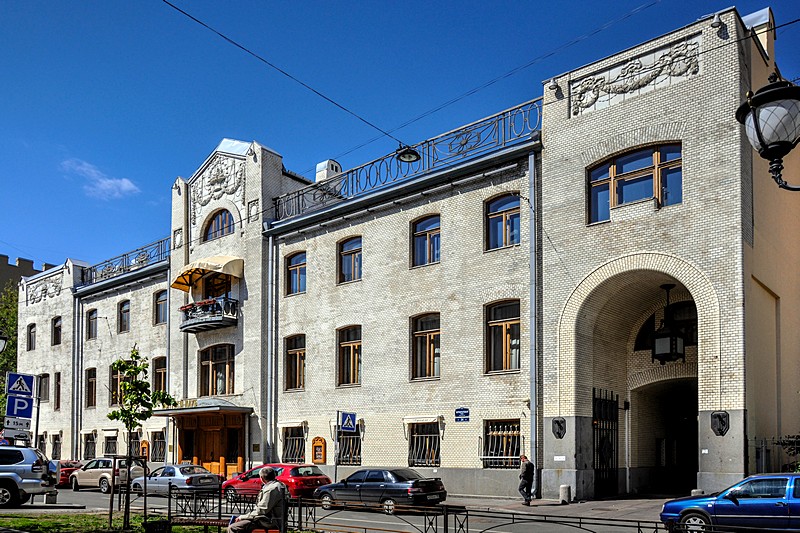 Kochubey Mansion on Furshtatskaya Ulitsa
In the 19th century, the mansion was the home of Princess Mary Volkonskaya, nee Countess Stenbok-Fermor. In 1905 it was bought by Prince Viktor Sergeevich Kochubey, Adjutant General of the Emperor. The family line of Kochubey originated from the Crimean Tatar Kucuk Bey, whose grandson Vasyl was an ally of Peter the Great and an enemy of Ukrainian Hetman Mazepa. Viktor Kochubey himself was a staunch monarchist who died in exile in Wiesbaden.
In 1908, Kochubey ordered Robert Melzer, an architect who designed several aristocratic mansions in St. Petersburg including the Palace of Grand Duke Mikhail Alexandrovich on the English Embankment, to create new designs for his family home. All previous buildings were torn down completely and the architect created a new mansion in a severe, somber style, contrasting with the cozy not to say luxurious interiors. Of particular interest is the Grand Hall, the oak-paneled Fireplace Hall with its huge tiled stove, and the Prince's study. Everything was built with both expediency and comfort in mind. The unique aesthetics of the building are best expressed in the extensive wrought iron decorations of the facades, including original lamps, balcony railings, and gates.
In Soviet times, the mansion housed a children's clinic. After careful restoration in 2009, the Kochubey Club opened here. Today the club offers historic halls for conferencing and events, including wedding receptions. You can even spend the night in the mansion in its only VIP room for newlyweds.
| | |
| --- | --- |
| Address: | 24, Furshtatskaya Ulitsa |
| Metro: | Chernyshevskaya |
| Directions: | Exit Chernyshevskaya metro station and turn left. Cross Prospekt Chernyshevskogo and turn right then immediately left onto Furshtatskaya Ulitsa. The Kochubey Mansion is on your right about 100 m along the street. |
| Website: | http://www.kochubeyclub.ru/ |
| What's nearby? | Zaitsev Apartment House, Ulitsa Chaykovskogo, Kirochnaya Ulitsa |
Accommodation near the Kochubey Mansion on Furshtatskaya Ulitsa
Dining near the Kochubey Mansion on Furshtatskaya Ulitsa
RESTAURANTS:
Editors' picks