Demidov Mansion
This aristocratic mansion on Bolshaya Morskaya Ulitsa belonged to the Counts Demidov, who almost single-handedly founded and developed the vast mining industry of the Ural Mountains during the 18th century. Count Pavel Nikolaevich Demidov (1798-1840), philanthropist and Jagermeister to the Court of Alexander I, bought the house in 1835, before his wedding with Aurora Shernval, one of the most beautiful women in St. Petersburg.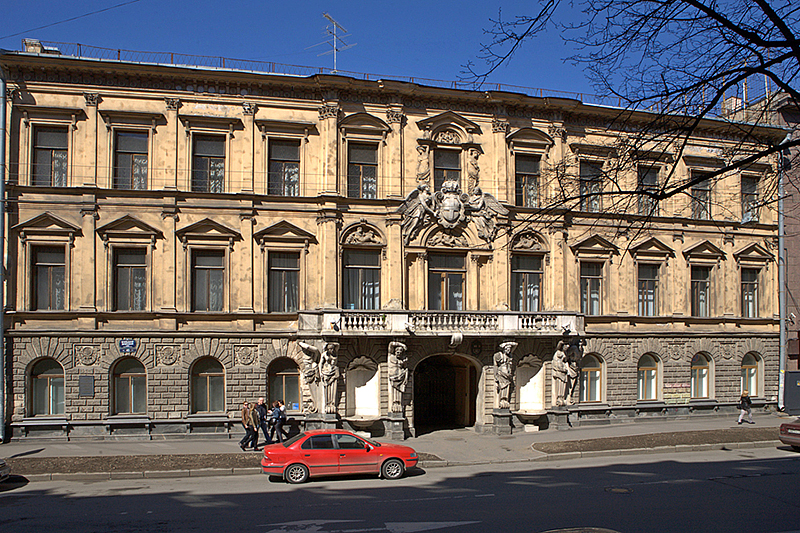 Demidov Mansion on Bolshaya Morskaya Ulitsa
Demidov requested Auguste de Montferrand, the architect of St. Isaac's Cathedral who had the year before moved into the house next-door and had befriended the Demidov family, to redesign the modest building. Despite the fact that the architect usually only worked on imperial order - the construction and decoration of St. Isaac's Cathedral occupied him for over four decades - he obliged the request of his friend (it also probably helped that he would not be on a tight budget). As a result, he created a magnificent neo-baroque building with interiors to match its elaborate facades. Visitors are greeted by six expressive Atlantes supporting a massive second-floor balcony. Above them are two winged bear figures with a shield emblazoned with the Demidov seal. Inside, the interiors dazzle with an abundance of precious and semi-precious stones from the Urals, gilded stucco, and wood carvings. Particularly impressive is the Great Hall which is decorated with columns and has a fireplace of green malachite.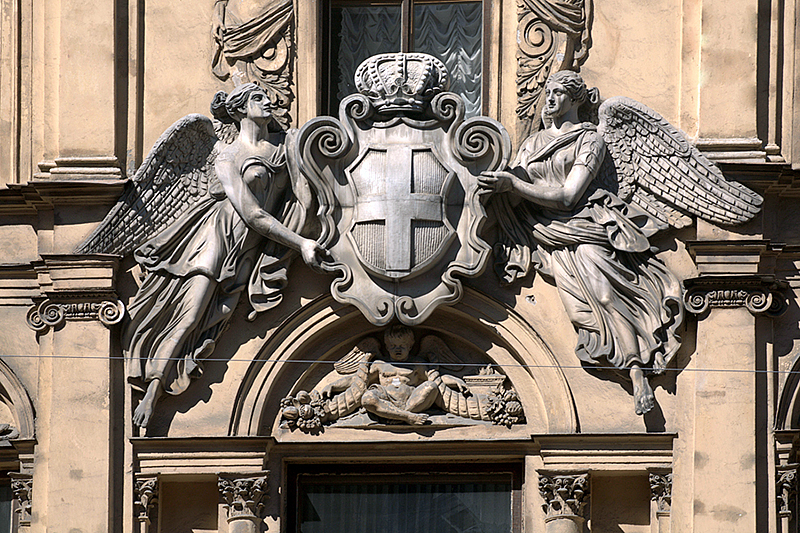 Demidov coat of arms on the facade of their mansion
From 1875-1910, the mansion belonged to Princess Nathalie von Lieven and was one of the centers of the Baptist confession in St. Petersburg. In the Great Hall spiritual talks were held for all guests. In 1910, the house was bought by the Italian embassy, and the Demidov coat of arms on the shield was tweaked so that it came to resemble an Italian royal coat of arms. At the time of World War I and on during the October Revolution and the Civil War, the building remained vacant. But in 1924, after the establishment of diplomatic relations between the government of Mussolini and the Soviet Union, the Italian mission returned. Unfortunately, at some point during this period the precious malachite - along with other valuable decorations abundant in the mansion - was exported abroad with no trace left behind.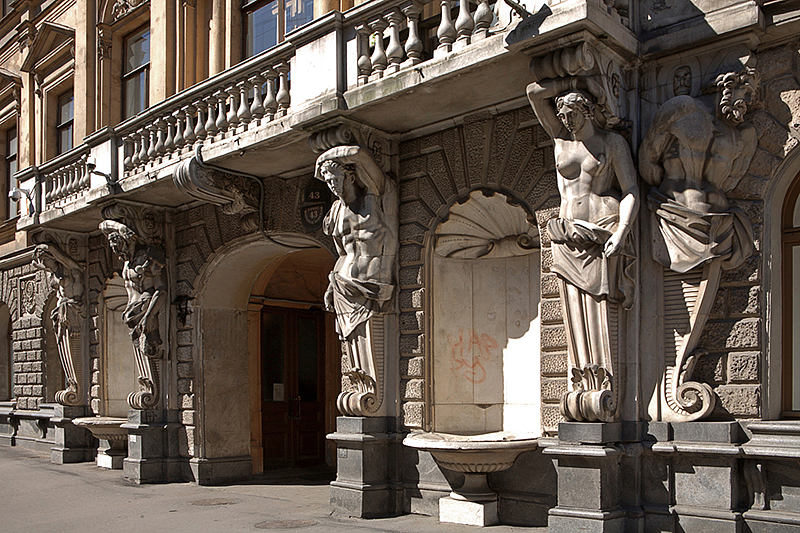 Balcony of the Demidov Mansion with Atlantes
The building became Russian property again in 1957. It is currently the property of Baltisky Bank, and the company has spent a lot of money on the restoration and maintenance of the historic Demidov Mansion.
| | |
| --- | --- |
| Address: | 43, Bolshaya Morskaya Ulitsa |
| Metro: | Admiralteyskaya |
| Getting there: | Exit Admiralteyskaya Metro Station and turn right then right again along Bolshaya Morskaya Ulitsa. Cross St. Isaac's Square and the Demidov Mansion is the second building on your right. |
| What's nearby? | St. Isaac's Square, St. Isaac's Cathedral, Moyka River, Malaya Morskaya Ulitsa, Siny Bridge (Blue Bridge), House of Composers, German Embassy Building, Ministry of State Property Building, Nabokov Mansion, Hotel Astoria |