Chaev Mansion
This highly original Art Nouveau mansion is located on the Petrograd Side and, despite its somewhat dilapidated condition, remains one of the finest examples of early 20th century architecture in St. Petersburg. Its originality lies in the fact that its forms and decorations owe less to the "Northern Moderne" style that was fashionable in St. Petersburg and its Nordic neighbors, and more to the Austrian-German school inspired by the innovative villas of Henry van de Velde. If the exteriors are striking, however, the biggest surprise is inside - a multipart staircase, onto which the rest of the rooms of the mansion are strung. Stairs run diagonal across the building twice - some tapering, some expanding, turning and twisting - alongside specially arranged mirrors. This mansion was built to what was perhaps the most audacious building plan in the history of St. Petersburg.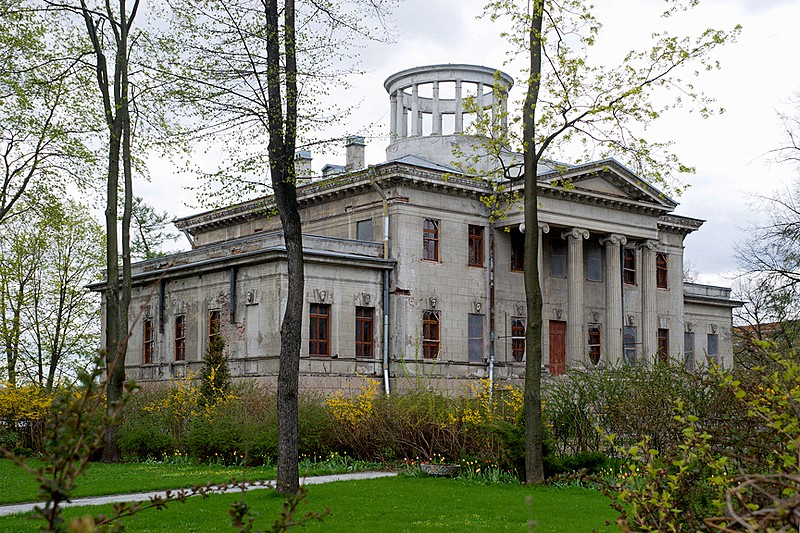 Chaev House on Kamenny (Stony) Island
The designer, Vladimir Apyshkov, was like many proponents of Art Nouveau in St. Petersburg a military engineer. He contributed to the designs of several bridges in St. Petersburg, and his most prominent project was probably the stunning Bolshoy Okhtinskiy Bridge, although this extraordinary mansion runs it a close second. It was built in 1907 for the engineer Sergey Chaev, one of the main builders of the Trans-Siberian Railway. It is unknown how Chaev reacted to the innovative experimental plans of the architect, but two years later the house was sold to the millionaire antiquarian Nikolay Solovyov (Chaev did, however, commission Apyshkov to build him a second, more traditionally styled, mansion nearby on Kamenny Island). Solovyov ordered another master of Art Nouveau, Fyodor Lidval, to attach a new wing to the rear of the building in 1914. Solovyov, husband of the actress and prima ballerina of the Imperial Ballet Vera Trefilova, died the following year and the house was sold again to a financier who made further expansions to the building, although fortunately without significantly altering its splendid main facades. From 1926 to the present, the mansion has operated as a dental clinic. Many of the decorations that earlier adorned the mansion have been lost, including a large sculpture of woman sitting on the eaves of the roof and a gazebo of which only the colonnade remains. However, the main aspect of the house remains intact, and it puts the Chaev Mansion in the same league as some of the most daring innovations in global architecture in the early 20th century.
| | |
| --- | --- |
| Address: | 9, Ulitsa Rentgena |
| Metro: | Petrogradskaya |
| Getting there: | Exit Petrogradskaya Metro Station at street level and turn left to Ulitsa Lva Tolstogo (Leo Tolstoy Street). Walk along Ulitsa Lva Tolstogo until house number 19 and turn right onto Ulitsa Rentgena. |
| What's nearby? | Kamennoostrovsky Prospekt |