Buturlina Mansion
The magnificent three-story Buturlina Mansion effectively compliments the surrounding buildings on Mokhovaya Ulitsa. The mansion is one of the best examples of 19th century baroque revival architecture in Petersburg. Although not all of its ornamental decorations have been preserved, today the rich textures of the facade are still guaranteed to impress.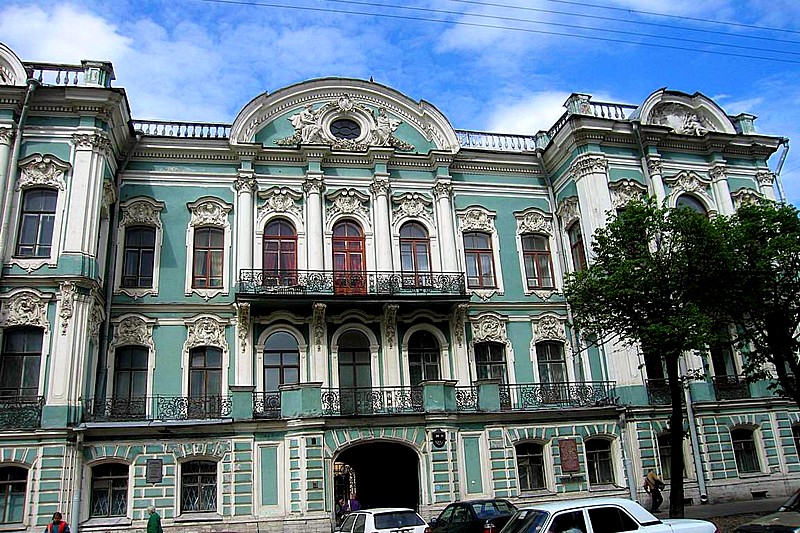 Buturlina Mansion on Ulitsa Chaykovskogo
In the early 18th century a wooden house stood on this site and was owned by the military engineer Vasily Korchmin, a close confidant of Peter the Great after whom, legend has it, Vasilevskiy Island is named. In 1844, the land was passed on to Lady-in-Waiting Elizaveta Buturlina. The talented architect Harald Bosse, who was adept in a wide range of styles in the "eclectic" manner of the period, built a mansion for her there 1857-1860. Unfortunately Buturlina died in 1859 before the building was completed.
Most of its exterior remains unchanged to the present day. Lost only are the statues and vases which were above the cornice, and the Buturlina coat of arms above the arch of the gate.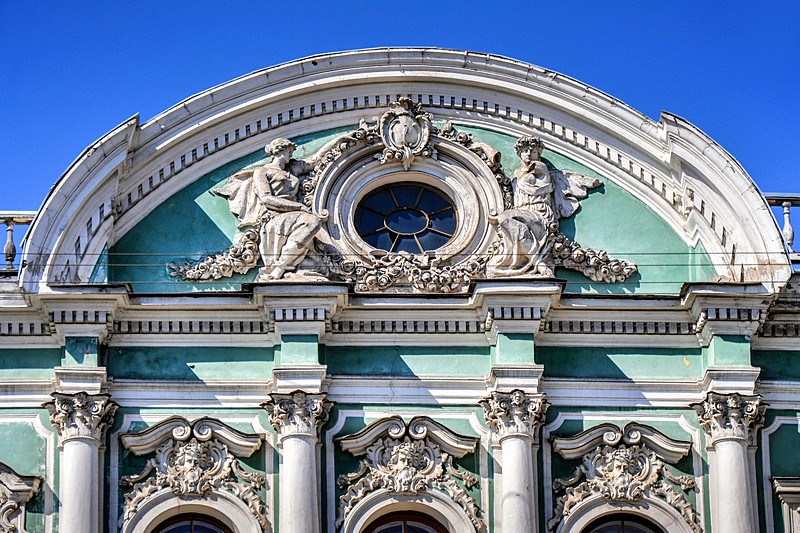 Rich Neo-Baroque decorationations on the Buturlina Mansion
In the 1860s the house was used as the Austro-Hungarian Embassy. Franz Joseph, the Emperor of Austria-Hungary, even visited here. In the first days after the outbreak of World War I, a patriotic crowd of townspeople overtook the embassy. They first threw stones at the building and later set fire to it. Firefighters mainly sought to prevent the spread of the fire to neighboring buildings. The mansion's gorgeous interiors burned up. It was partially restored, but after 1917, prisoners of war were lodged here and completed the ruination of the building.
In 1925, the mansion was taken under state protection as a monument of architecture and in 1930 repaired and converted into an apartment building, which it remains today. If you happen to be in this historic district of St. Petersburg exploring the Fontanka Embankment or Liteyniy Prospekt, be sure to stroll up to the Buturlina Mansion and admire its magnificent facade.
| | |
| --- | --- |
| Address: | 10, Ulitsa Tchaikovskogo |
| Metro: | Chernyshevskaya |
| Getting there: | Exit Chernishevskaya Metro Station, turn right on Prospekt Chernyshevskogo and turn left on Ulitsa Tchaikovskogo. |
| What's nearby? | Mokhovaya Ulitsa, Liteiny Prospekt, Shpalernaya Ulitsa |