Brusnitsyn Mansion
Few people know about the Brusnitsyn Mansion on Vasilievsky Island, but it is one of St. Petersburg's great hidden treasures. Its sumptuous late 19th-century interiors remain untouched by renovation or restoration, showing only the ravages of time. Although the mansion is located in an industrial area far from the nearest metro station and is only accessible through guided tours booked in advance, it is well worth the effort as tour of this currently abandoned building, with its worn oak paneling, chipped marble, and torn velvet is a uniquely eerie experience, like walking through the setting of a Gothic ghost story.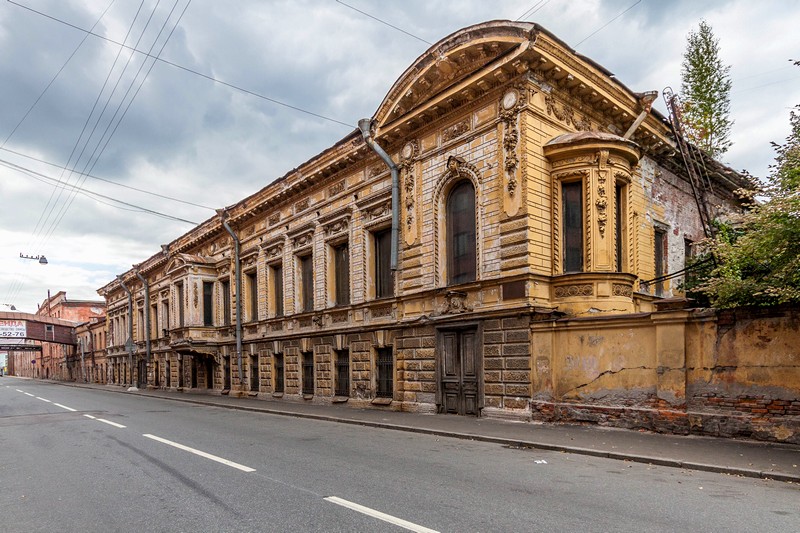 Brusnitsyn Mansion on Kozhavennaya Liniya
The first stone house on the corner of Kozhevennaya Liniya ("Tanning Line") was built in the 1770s. At around the same time, Catherine the Great decreed that tanneries be established in the area. In 1844, the house was bought by the merchant Nikolay Brusnitsyn, who then opened the Brusnitsyn and Sons Tannery, rapidly becoming the largest leather manufacturer in St. Petersburg. The factory's premises occupied a substantial area along both sides of the street. In 1857, Brusnitsyn had the mansion reconstructed and expanded to its present size, and several further improvements and alterations were made to the building by him and his sons, the final reconstruction taking place in 1886 under the architect Anatoly Kovsharov, which included the addition of a "winter garden", a large conservatory with glass panes between elegant wrought iron frames. The mansion's impressive interiors also date from this period, and include the white ceremonial hall the Louis XV with particularly rich gilded stucco work, the formal dining room with its extraordinary carved oak ceiling, and the intricately patterned Moorish smoking room.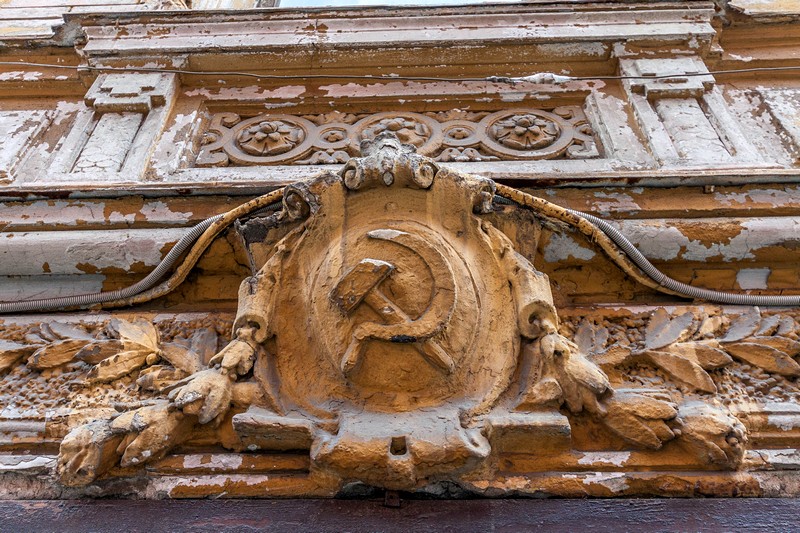 Soviet interiors of the Brusnitsyn Mansion
After the revolution of 1917, the Brusnitsyns' factory was nationalized and renamed after the 18th century radical critic Alexander Radishchev. By this time, industrial sites completely surrounded Kozhevennaya Liniya, including the giant Baltic Shipyard building and a thermal power plant. The Brusnitsyn Mansion was used to house the factory administrative offices and some workshops. The factory continued to operate until the mid-1990s, and since then the building's future has been uncertain.
| | |
| --- | --- |
| Address: | 27, Kozhevennaya Liniya |
| Metro: | Vasileostrovskaya |
| Getting there: | Exit Vasileostrovskaya Metro Station, turn left, cross 8-ya/9-ya Liniya and turn left to the first bus stop. From there take the k-359 marshrutka minibus to the corner of Kosaya Liniya and Kozhevennaya Liniya, right next to the Brusnytsin Mansion. |
| What's nearby? | Neva River, Bolshoy Prospekt (Vasilievsky Island) |