Peter III's Palace
Built between 1758 and 1762 by Antonio Rinaldi, the small Palace of Peter III is, along with the nearby Gate of Honour, all that remains of Petershtadt, the model fortress that Peter III had built for himself and his Holstein bodyguards. The bizarre set-up of Petershtadt adds weight to the traditional perception of Peter as immature, obsessed with militarism, and decidedly unfit to become Emperor of Russia. The citadel, of which Peter declared himself "Commandant", was surrounded by motes and earthen ramparts, and consisted of a barracks and officers' mess, an arsenal, a parade ground, and a Lutheran church.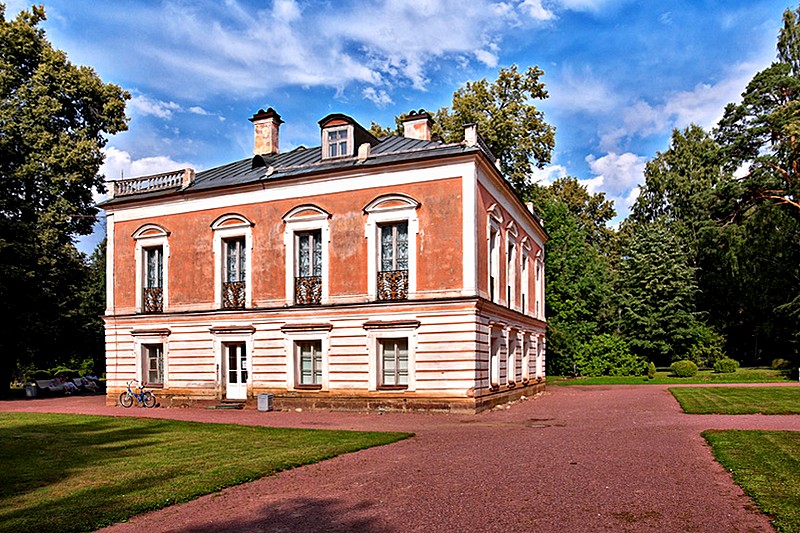 Palace of Peter III in Oranienbaum
Most of the buildings that comprised Petershtadt were demolished in 1798, When Peter's son, Paul I, ordered the removal of all wooden structures in the park. The Gate of Honour, which led onto Petershtadt's parade ground, is an elegant late Baroque gate tower with a narrow gold spire atop a wide arch and an octagonal turret that was once used as a look-out post. It now stands alone, and looks rather out of place among the overgrown shrubbery. However, its archway does provide a superb view of the Lower Pond and the eastern wing of the Grand Palace.
Peter's Palace itself is a simple but attractive example of early neoclassicism. A compact, two-storey mansion, square with a crescent facade cut into one corner, the palace was clearly designed for Peter to live alone, as evidenced by the size of the living and sleeping quarters. While there is nothing particularly impressive for visitors to see inside, the Picture Hall has a reasonable collection of 18th century art, and the ceiling of Peter's boudoir is painted with scenes of life in Petershtadt.
| | |
| --- | --- |
| Open: | May 1 to October 9: Daily, 10:30 am to 6 pm. Last admission is at 5 pm. October 10 to April 30: Saturday and Friday, 10:30 am to 5 pm. Last admission is at 4 pm. |
| Closed: | May 1 to October 9: Monday. October 10 to April 30: except Saturday and Friday. |
| Admission: | Adult: RUB 250.00 Children: RUB 150.00 |
| Photo and video: | Not allowed |
| Accessibility note: | Sorry, this museum is not wheelchair accessible. |