The Chinese Palace
There is nothing particularly Chinese about this charming building in the southern corner of the park at Oranienbaum. Built by Antonio Rinaldi between 1762 and 1768, it was the first major building project to be ordered by Catherine the Great, who planned for the building to serve as her private dacha. In fact the Empress spent only 48 days there during the 34 years of her reign. However, the building, which is currently undergoing full-scale renovation, is considered one of the finest examples of rococo in Russia, with has superbly ornate interiors featuring a range of late 18th century styles, including Chinoiserie, a trend imported to St. Petersburg from England rather than from the East.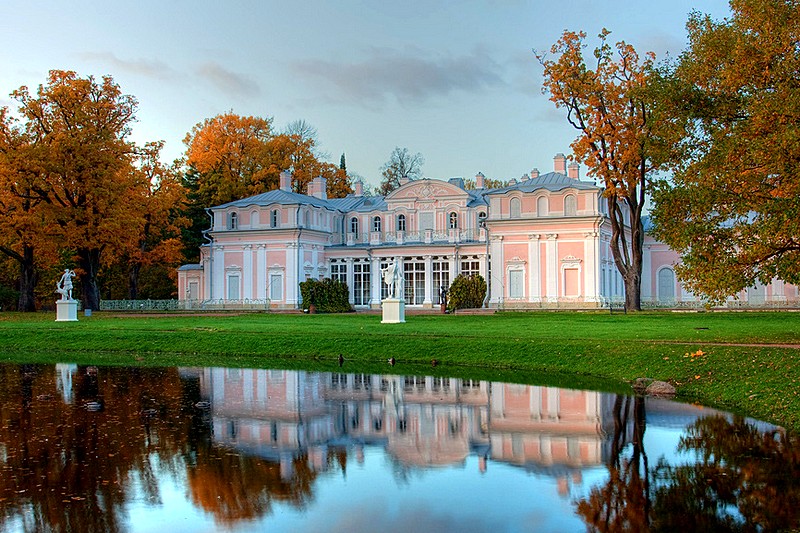 Rococo Chinese Palace in Oranienbaum
From the outside, the palace is a relatively simple building, single-storey except for the small central pavilion, painted in a mellow combination of ochre and yellow. The seventeen rooms inside, decorated by Rinaldi and other leading artists and craftsmen of the day, feature pink, blue and green scagliola, painted silks, and intricate stucco work. Rinaldi's parquet floors are wonderfully ornate, using several types of rare Russian and imported wood. Among the highlights of the Chinese Palace interiors are the Glass Beaded Salon, the walls of which are hung with 12 panels of richly coloured tapestries depicting exotic birds and fauna. The fine white glass beads that form the backdrop of the tapestries give the whole room a diaphanous, shimmering quality that was designed to be particularly effective in the glowing twighlight of the White Nights. The full influence of Chinoiserie is in evidence in the gaudy Large Chinese Salon, where the walls are covered with marquetry paneling of wood and walrus ivory depicting oriental landscapes, and large Chinese lanterns hanging in the corners. The room also contains an English-made billiard table with superb wood carving.
The interiors of the Chinese Palace are particularly prized because they have survived almost completely intact since Catherine's reign. Whereas most of the interiors of St. Petersburg's imperial palaces had to be completely reconstructed after the wanton destruction of the Nazi invaders, the decorations of the Chinese Palace were successfully evacuated, and re-installed in the early fifties. They are, however, in chronic need of restoration, and the process is finally underway in ernest, with several major Russian and international conservation agencies involved in the process. As yet, there is no date set for the completion of works.
| | |
| --- | --- |
| Open: | May 1 to October 9: Daily, 10:30 am to 6 pm. Last admission is at 5 pm. |
| Closed: | May 1 to October 9: Monday. October 10 to April 30: daily |
| Admission: | Adult: RUB 400.00 Children: RUB 200.00 |
| Photo and video: | Not allowed |
| Accessibility note: | Sorry, this museum is not wheelchair accessible. |