Although the W St. Petersburg Hotel is predominantly oriented towards leisure and entertainment, it also offers small but beautifully designed event venues, with a number of unique features and proposals that, like everything at the hotel, are fashionably high concept. These include a range of creative workshops and break-time activities, as well as hi-tech audiovisual equipment and sumptuous refreshments.
Equipment available in all halls:
Projection screen
LCD projector
Flip chart
Meeting Rooms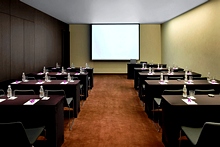 With seating for up to 50 guests, the W St. Petersburg's Studio I meeting room is a stylish and ergonomic space decorated in a sleek contemporary style, with lacquered and taupe walls and adaptable designer furniture equally suited to conferencing and banqueting.
More details ›››
Square: 63 m2
Maximum capacity: 50 people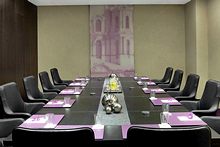 Featuring elegant contemporary design in shades of taupe and purple, as well as a lacquered wood screen that separates it from the Strategy boardroom, the W St. Petersburg's Studio II meeting room is a very stylish smaller meeting space with flexible designer furniture that makes it suitable for banqueting, seminars or boardroom-style meetings.
More details ›››
Square: 49 m2
Maximum capacity: 35 people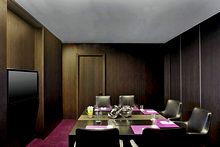 The W St. Petersburg's Strategy boardroom is a very elegant small meeting space, combining lacquered walls and vibrant pink carpet with designer furniture. Ideal for confidential business meetings, the space can also be used in conjunction with the adjoining Studio II meeting room for business events or banqueting.
More details ›››
Square: 21 m2
Maximum capacity: 8 people