Business travelers staying at the Rossiya Hotel can use the Business Center, which has all standard amenities, and choose from a wide range of conference facilities in the Bourgeois Conference Centre.
Business center amenities:
International phone lines
Internet access
Photocopier
Fax
Secretarial services
Typing services
Computer rental
Conference Halls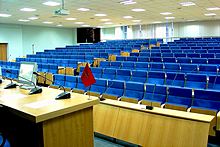 The Rossiaya's main conference facility can seat up to 250 delegates in its amphitheatre format. The Petrovskiy Hall has full conference equipment, including systems for simultaneous interpreting. At the front of the hall is a raised podium, and each seat for delegates is equipped with a microphone.
More details ›››
Square: 274 m2
Maximum capacity: 250 people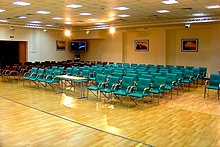 The 270-square-meter Catherine Hall has movable seating with a maximum capacity of 250 people. It has a raised podium with two large screens, behind which a huge plate-glass window permits plenty of natural light. The space can also be used as an exhibition hall, and stands are provided.
More details ›››
Square: 270 m2
Maximum capacity: 250 people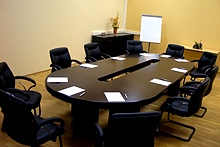 The Rossiya's conference centre has five smaller halls, all named after Russia's Tsars, which can be transformed using soundproof sliding panels into a wide range of configurations suitable for all types of corporate event, from intimate round-table meetings of up to 15 delegates to full-scale presentations to an audience of up to 128.
More details ›››
Square: 46 m2
Maximum capacity: 36 people