The Petro Palace is well equipped for guests wishing to hold seminars, conferences or business meetings. Full catering services are also available.
Conference Halls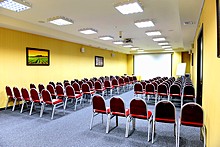 The Bordo Conference Hall is located on the ground floor of the hotel, covers an area of 108 square meters, and has seating for up to 120 people, depending on the set up you require. The versatile furniture can be arranged as a theatre or classroom for presentations, or can be moved to make a U-shape for round table discussions. The hall can also be used for banquets or receptions. One wall of the hall is covered by a large (3 x 2.5m) projection screen.
More details ›››
Square: 108 m2
Maximum capacity: 120 people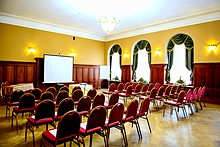 The Oak Banquet Hall, on the first floor of the hotel, takes its name from the beautiful oak paneling that covers its walls. This square room with large bow windows has seating for up to 80 people, and is the ideal choice for elegant corporate or private entertaining.
More details ›››
Square: 95 m2
Maximum capacity: 80 people