The Park Inn Pribaltiyskaya is St. Petersburg's largest hotel, and it offers a huge range of conferencing and event space, with some of the biggest halls in the city available for business meetings or celebrations.
Equipment available for all halls:
Projection screen
LCD projector
Overhead projector
DVD-player
CD-player
TV
PCs
Whiteboard with markers
Flipchart with markers
Conference Halls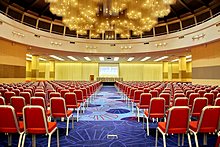 This vast meeting space is one of the few places in St. Petersburg able to cater for events with as many as 600 people. Simply decorated, and with an attractive circular skylight, the Blue Conference Hall is equipped with professional sound and video equipment, and can be used equally well for major business events or large-scale celebrations.
More details ›››
Square: 695 m2
Maximum capacity: 600 people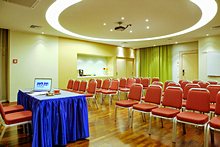 A spacious conference hall with a stylish retro design that combines black polished stone walls with bright red furniture and fittings, the Red Conference Hall can be used for all types of mid-size business event or banquet, with flexible seating arrangements and a full spectrum of modern presentational equipment available for rent.
More details ›››
Square: 104 m2
Maximum capacity: 80 people
Meeting Rooms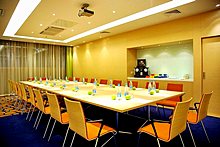 This smaller meeting venue at the Park Inn Pribaltiyskaya Hotel is plainly decorated and fitted with ergonomic, adaptable furniture, making the space suitable for all types of conferencing, seminar, or training event. Green Meeting Room can be supplied with a wide range of modern a/v equipment if required.
More details ›››
Square: 57 m2
Maximum capacity: 50 people