The 28 guest rooms at the Nevsky Express Hotel range from compact singles to comfortable two-room suites. All rooms are simply but attractively decorated, with modern en suite bathrooms and a reasonable range of technical facilities. The second floor of the hotel offers WiFi Internet access. Non-smoking rooms are available. Continental breakfast is included in all room rates.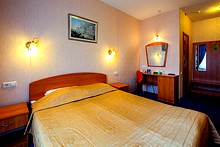 Measuring 12 square meters, the Nevsky Express Hotel's Standard Rooms are compact and basic, with white walls and simple, modern decor and furniture. Rooms have large windows and high ceilings, and overlook either the peaceful courtyard behind the hotel or Nevsky Prospekt. Furniture includes queen-size bed and wardrobe.
More details ›››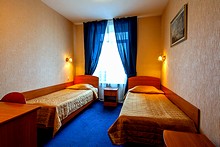 Providing basic accommodation for two guests, the Nevsky Express Hotel's Standard Twin Rooms measure 12 square meters. Furniture is minimal, and the high ceilings, large windows, and simple modern decor ensure that rooms are not too cramped. Furniture includes two single beds and wardrobe. Rooms overlook the hotel's peaceful courtyard or Nevsky Prospekt.
More details ›››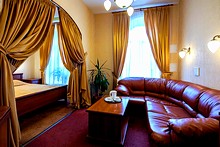 The Nevsky Express Hotel's Superior Rooms measure between 25 and 30 square meters, and have plenty of space for two guests to live and relax in comfort. Some Superior Rooms are two-room suites divided into bedroom and living room, while others are open-plan rooms with sleeping and relaxation areas divided by heavy curtains. Simply decorated in pale colours, with large windows and high ceilings, Suites have modern furniture including king-size bed, writing desk, sofa, coffee table, and armchairs.
More details ›››