Although only small, the NashOTEL prides itself on being able to offer stylish and well equipped meeting space and a full range of support services for conferencing, business events, and banqueting for up to 50 people. The three spaces at the NashOTEL are located on the first floor, and can easily be used in conjunction for integrated events and celebrations.
Equipment available for all halls:
Projection screen
LCD projector
Flipchart and pens
WiFi access
Conference Halls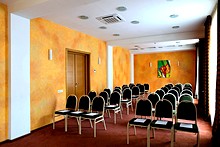 Measuring 50 square meters, the NashOTEL's Yellow Hall is a bright and extremely stylish mid-size meeting venue with large windows providing plenty of natural light, ergonomic designer furniture, and a reasonable range of state-of-the-art audiovisual equipment available.
More details ›››
Square: 52 m2
Maximum capacity: 50 people
Meeting Rooms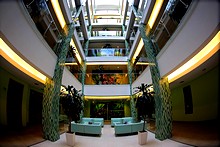 The NashHOTEL's first-floor Atrium is a small but flexible meeting space that can be used as a break-out space for events in the hotel's conference hall, for coffee breaks and other catering, or as an independent venue for all types of small business event for up to 30 people.
More details ›››
Square: 43 m2
Maximum capacity: 30 people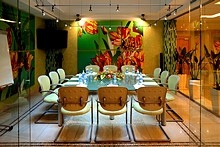 The 23-square-meter Glass Hall is the NashOTEL's sleek boardroom-style meeting room, featuring vibrant floral patterns, glass walls, and ergonomic designer furniture. The Glass Hall can seat up to 12 people and has a good range of modern presentational equipment available.
More details ›››
Square: 23 m2
Maximum capacity: 12 people