The Kempinski chain prides itself on the high quality of its prestigious MICE venues, and the Moika 22 Hotel is no exception, with limited but extremely elegant meeting space for all types of up-market event. All rooms at the Kempinski Moika are stylishly furnished and equipped with modern audiovisual technology, and the hotel's experienced event staff will provide all the support you require for catering and event planning.
Equipment available for all halls:
Projection screen
LCD projector
Overhead projector
Speaker system
Microphones
DVD-player
CD-player
TV
Fax
PC
Whiteboard with markers
Flipchart with markers
Conference Halls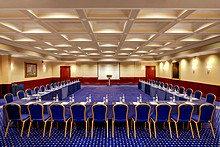 This spacious, ergonomic MICE venue at the Kempinski Hotel Moika 22 is ideal for large-scale conferencing events and presentations, with elegant decorations in a classic style, comfortable and flexible seating, and a full range of modern audiovisual equipment available for hire. The Neva Conference Hall can be rented in conjunction with the Fontanka Meeting Room for integrated events.
More details ›››
Square: 205 m2
Maximum capacity: 160 people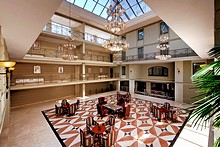 Located on the ground floor of the Kempinski Moika 22, the hotel's largest meeting space is the airy and elegant Atrium Foyer, which can be used for a wide variety of events thanks to its flexible modern seating and a full range of presentational equipment making it equally suitable for receptions, banqueting, large-scale conferencing, presentations and exhibitions.
More details ›››
Square: 250 m2
Maximum capacity: 180 people
Meeting Rooms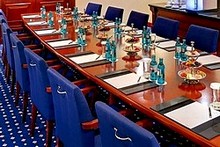 The Kempinski Moika 22's Fontanka Meeting Room is the hotel's boardroom, decorated in classical style with smart and very comfortable modern furniture. On the ground floor of the hotel, it is linked to the Neva Conference Hall, and can therefore be used as an auxiliary space for larger events, as well as a standalone venue to host negotiations and private banqueting.
More details ›››
Square: 44 m2
Maximum capacity: 20 people