The Golden Garden Hotel is part of a complex that includes two excellent fine-dining restaurants. Both restaurants are well known for their superb cuisine and proportionally high prices. Guest will find that the area surrounding the hotel - especially along Ulitsa Rubinshteina and Ulitsa Marata - is packed with a huge variety of restaurants, cafes and bars to suite all budgets and tastes.
An exclusive room-service menu is available 24-hour, and buffet breakfast is served for all guests in the Fyodor Dostoevsky Restaurant daily from 7am to 10.30am.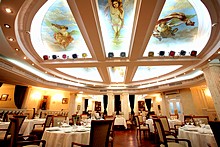 Renowned Russian restaurant serving luxurious traditional cuisine.
More details ›››