The 19 guest rooms at the Alexander House are all named after famous travel destinations throughout the world, and feature bright, stylish interior designs that reflect the character and culture of these places. Style and furniture vary widely, but all rooms feature a full range of in-room amenities and modern en suite bathrooms. Rooms face either the pretty Kryukov Canal, or the hotel's charming courtyard garden.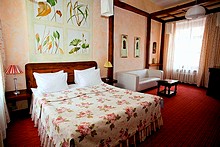 Measuring between 15 and 20 square meters, the Alexander House's Standard Rooms are all attractively decorated in a range of different styles. Several Standard Rooms are located on the mansard floor of the hotel, and all are equipped with double bed, writing desk, and some form of soft seating.
More details ›››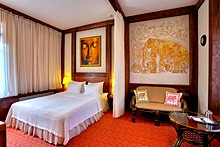 Larger than the Alexander House's Standard Room's, these one-room Deluxe Rooms offer very comfortable accommodation for two, measuring at least 30 square meters each. They all feature individual and highly original room designs, but furniture including double bed, writing desk, coffee table, sofa, and armchairs is guaranteed.
More details ›››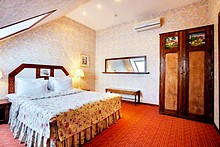 Measuring 71 square meters, the Barcelona Suite offers superbly comfortable and stylish accommodation for families or two couples travelling together. Its original interior design includes a large semi-circular window with great views over the Kryukov Canal, wooden floors and plenty of exposed brickwork. The suite consists of two bedrooms with double beds and a living room with writing desk, coffee table, and large curved sofa.
More details ›››