German St. Petersburg
Of all the European nations drawn to Peter the Great's new Europeanized capital, it was Germans who came in the greatest numbers and contributed the most to the life and development of St. Petersburg. While events of the 20th century have dispersed the city's German communities, there was a time in the 19th century when nearly ten per cent of St. Petersburg's population was ethnic German.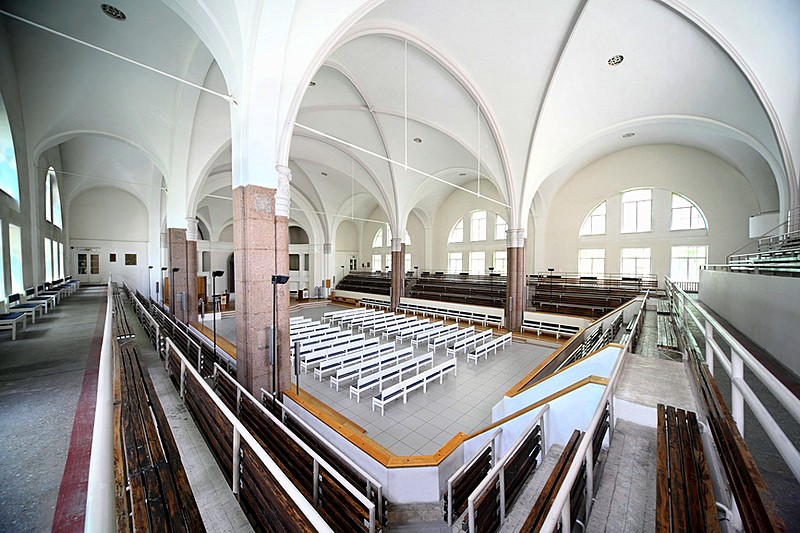 Interior of St. Peter's German Church
Starting with the German Settlement on Vasilevsky Island, in one of the very oldest neighborhoods of the city, German migrants established colonies at several locations in and around St. Petersburg, such as Friedental near Tsarskoye Selo and Neu Saratowka (Novosaratovka) at the south-eastern city limits. In the very centre of the city, meanwhile, the German church and its school (the Petrikirche and Petrischule) were centres of German culture, and the latter educated some of the most prominent people in pre-Revolutionary Russia (as did the Karl May's gymnasium on Vasilevsky Island).
The extent of German influence in St. Petersburg can be seen not only in the long list of great engineers, scientists, musicians, architects, industrialists and many others whose achievements in the city have been recorded for posterity, but also in the Russian language itself, to which German has lent a vast lexicon of words, particularly vocational and technical. Even the city's name ("Sankt-Peterburg" in Russian) is essentially Germanic.
The outbreak of the First World War, which prompted the renaming of the city to the Russified Petrograd, sparked a chain of events that completely destroyed St. Petersburg's two-century-old German community. Since the fall of the Soviet Union, however, Germany has taken an international lead in promoting cultural and social links with the Russian Federation, and this can be seen in St. Petersburg today in a consistently rich program of cultural events, and in the work of several organizations devoted to rebuilding the ties between Germany and St. Petersburg.