Vladimir Nabokov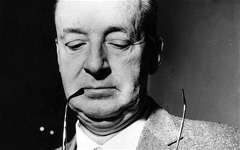 Author
Born: St. Petersburg - 10 April 1899
Died: Montreux, Switzerland - 2 July 1977

One of the greatest novelists of the 20th century, Vladimir Nabokov left St. Petersburg and Russia at the age of 19, and went on to become an international man of letters and a patriotic US citizen. Nonetheless, from his writings it is clear that no place in the world ever supplanted in his affections the city of his birth and the surrounding countryside where he spent his formative years.
Born in 1899 in St. Petersburg, Nabokov later described his childhood as "perfect". His family were members of the minor nobility, and his grandfather had served as Minister of Justice in the reign of Alexander II. His father, Vladimir Dmitrievich Nabokov, was a prominent lawyer and journalist, editor of the liberal newspaper Rech and a leading member of the Constitutional Democratic Party (the "Kadets"), who would serve as a secretary of the Provisional Government in 1917.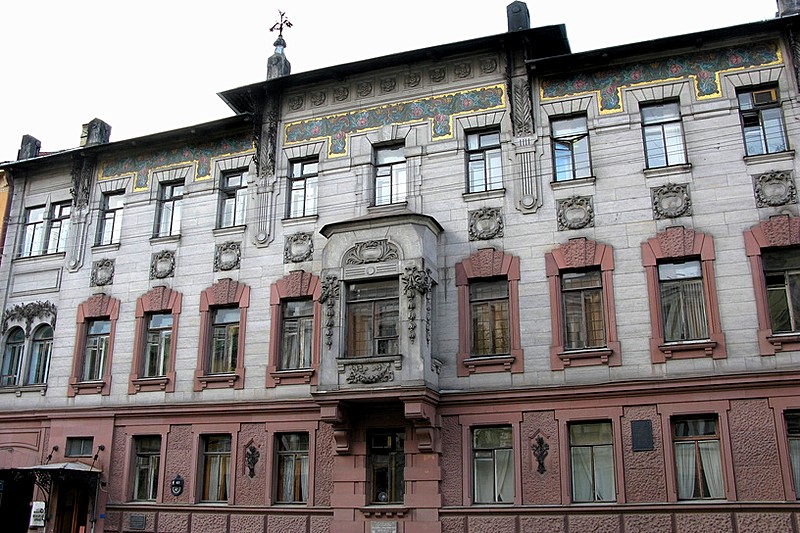 Nabokov Museum - former private home of the Nabokovs
Nabokov spoke French and English fluently from an early age, and was schooled at the Tenishev College on Mokhovaya Ulitsa, an elite secondary school with an unusually strong scientific curriculum. The Nabokov family lived in a beautiful Art Noveau mansion on Bolshaya Morskaya Ulitsa (now the Nabokov House Museum), which Nabokov described as "the only house in the world", and spent their summers at their estate at Vyra, Gatchina Region. In 1916, Nabokov inherited the nearby Rozhdestveno estate and a substantial fortune from his mother's brother Vasiliy Ivanovich Rukavishnikov, which allowed him to have published his first collection of poems. While Vyra was destroyed in 1944, the mansion at Rozhdestveno has survived and is now a museum.
Despite his father's political involvement and the tumultuous events that rocked St. Petersburg during his childhood, the young Nabokov lived in a privileged oasis of liberal thought, high culture and cosmopolitan manners. This world was completely destroyed by the October Revolution. The Nabokov family fled St. Petersburg first to Crimea, then to England, where Nabokov enrolled at Trinity College, Cambridge, to study first Zoology and then Slavic and Romance languages. While at Cambridge, he wrote verse in English, and translated Alice in Wonderland into Russian. His family soon moved to Berlin, where Nabokov joined them after graduation in 1922. A few months before, his father had been murdered at a conference of the Constitutional Democrats while protecting a colleague from White fascist assassins.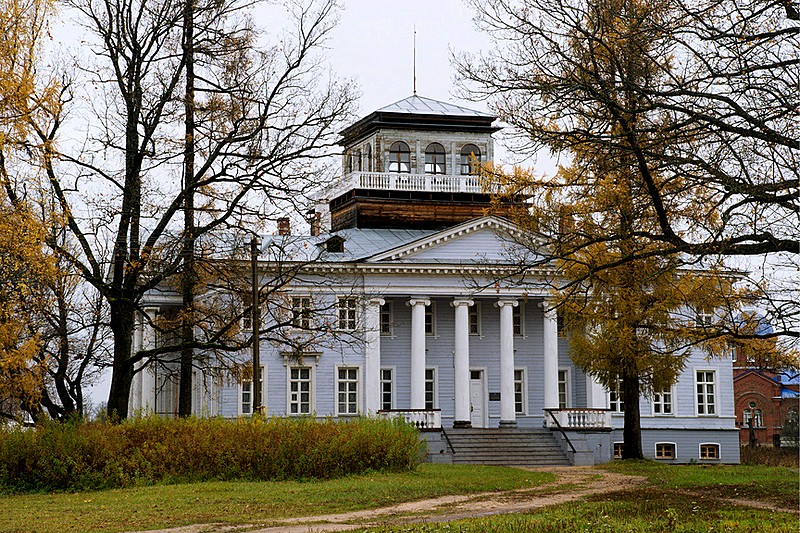 Nabokov family estate in the village of Rozhdestveno
He lived in Berlin for 15 years, establishing himself among the leading poets and authors of the Russian emigre community under the pen name V. Sirin (after a bird in Russian folklore). To earn a living, he taught languages, gave tennis lessons and composed crossword puzzles for Russian-language newspapers. He married Vera Slonim in April 1925, and their son Dmitry was born in 1934. In his Berlin period, Nabokov published ten novels one of which, Laughter in the Dark, was published in English translation.
As life in Hitler's Germany became increasingly untenable, particularly for Vera, who was Jewish, Nabokov began looking for a job in an English-speaking country. The Nabokovs left Berlin for Paris in 1937, and in the next two years lived in various French towns, moving south as the Nazi forces advanced, and eventually getting passage to the USA in May 1940. While in France, Nabokov composed his first novel in English, The Real Life of Sebastian Knight.
Their first year in America was spent in Manhattan, where Nabokov, a dedicated lepidopterirst since childhood, found work at the American Museum of Natural History. The next year, he was appointed resident lecturer in comparative literature at Wellesley College, where he would teach in a variety of roles until 1948. Meanwhile, he also worked at Harvard University's Museum of Zoology. He became a naturalized American citizen in 1945. In 1948, he moved to Cornell University, where he taught Russian and European literature (among his students were Thomas Pynchon and US Supreme Court Justice Ruth Bader Ginsburg. The scandalous success of Lolita, the American edition of which became the first novel since Gone with the Wind to sell 100,000 copies in three weeks, brought Nabokov international fame and financial independence.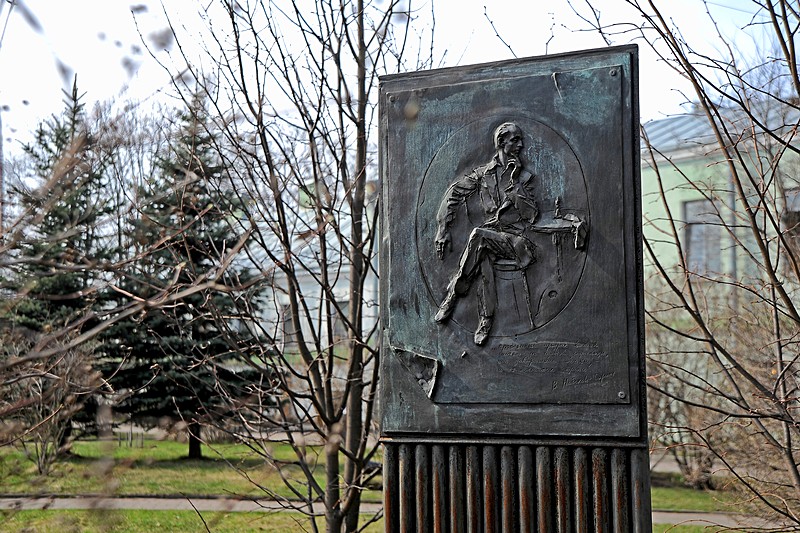 Monument to Vladimir Nabokov erected in the courtyard of the Languages Department of St. Petersburg State University
In 1961, Vera and Vladimir Nabokov left Cornell for Montreux, Switzerland, in order to be closer to their son, Dmitry, who was pursuing a career as an opera singer in Italy. Although Nabokov often stated his intention of returning to the United States, he would remain in Montreux for the rest of his life. He died in hospital there in 1977.
Although in geographical terms Nabokov's life was divided into four more or less equal periods, there is little doubt that his childhood in St. Petersburg and his American years were the most important both in terms of his work and of his personal fulfillment. In comparison to his time in Berlin, where Nabokov had suffered various personal setbacks and hardships in the increasingly confined and oppressive world of the Russian emigration, in the United States he met with convivial company and great kindness, found relative material comfort even before his literary success, and was given great freedom to pursue his two abiding passions - literature and entomology. In his works and in his infrequent interviews, he made it abundantly clear how grateful he was to his adopted country.
In his novels, his love of America, its countryside, its people and its popular culture, was most fully expressed in the extended road trip of Lolita. His childhood in St. Petersburg is beautifully detailed, with the lucid recollection granted by absolute loss, in his autobiography Speak, Memory, in many of his short stories, and in perhaps his most moving novel, Pnin. His final major work, Ada or Ardor: A Family Chronicle, was an attempt to create a literary synthesis of the two worlds - the aristocratic Russia of his childhood and the liberal America of the 1950s.
Selected Works: Lolita (1956), Pnin (1957), Eugene Onegin (1964), Speak Memory (1967), Ada or Ardor: A Family Chronicle (1969), Lectures on Russian Literature (1981), The Stories of Vladimir Nabokov (1995)
Monuments and memorials: Monument to Vladimir Nabokov erected in the courtyard of the Languages Department of St Petersburg State University
Addresses in St. Petersburg: 47, Bolshaya Morskaya Ulitsa (Nabokov House Museum), 33-35, Mokhovaya Ulitsa (Student Theatre on Mokhovaya, formerly Tenishev College)