Vladimir Kozma Zworykin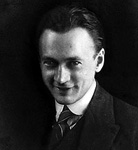 Engineer, inventor
Born: Murom, Russia - 17 July 1888
Died: Princeton, New Jersey - 29 July 1982

A pioneer of early television technologies, Vladimir Zworykin was born in Central Russia in 1888 to the family of a wealthy merchant. He studied in St. Petersburg under Boris Rosing, responsible for identifying the cathode ray tube as the key to television transmission, at St. Petersburg Technical University and at Rosing's private lab. Zworykin graduated with honors in 1912. From 1912 to 1914, Zworykin continued his education in Paris. During the First World War he served in the Signals Corps, and during the civil war he moved to White-controlled Omsk, where he worked on radio station equipment. In 1919, while Zworykin was on a diplomatic trip to the United States as a representative of Admiral Kolchak's government, he learned of the White defeat in Siberia, and decided not to return to Russia.
He eventually went to work for Westinghouse Electric Corporation. By 1923 he had developed a television system that was almost entirely electronic, rather than mechanical. He took out US patents for two cathode ray tubes, the iconscope camera tube, which became the basis of the first practical television camera, and the kinoscope picture tube, which remained at the heart of CRT televisions up until the end of the 20th century. His bosses at Westinghouse were unimpressed by the system he demonstrated in 1924, however, and although he is often described as the "father of television", it is a title he himself rejected. He moved to RCA in 1929, where he found greater support, and the same year he patented a colour television.
He worked at RCA for 25 years, then became director of the Medical Electronics Center at the Rockefeller Institute. In total he owned more than 120 patents on various inventions, including infrared gun sights, radiation detectors, and electronically controlled automobiles. He won numerous awards, and was the founder of the International Federation of Medical and Biological Engineering.