Marius Petipa
Dancer and choreographer
Born: Marseille - 11 March 1818
Died: St. Petersburg - 14 July 1910

Acclaimed as the greatest ballet choreographer ever to have lived, the French-born ballet master Marius Petipa spent nearly sixty years working at the Imperial Ballet Theatre and its successor the Imperial Mariinsky Theatre. In that time he staged over sixty original ballets, and developed his troupe to be undisputedly the finest ballet company in Europe. He was the central figure in Russia's golden age of ballet, and as such he probably did more than any other person to establish St. Petersburg as a cultural centre to rival the great capitals of Old Europe.
Victor Marius Alphonse Petipa was born in 1818 in Marseilles, where his father Jean Antoine Petipa was working as principal dancer and Maitre de ballet at the Salle Bauveau in Marseilles. Petipa's mother, Victorine Grasseau, was a tragic actress, and the family lived in several French cities during Petipa's boyhood as his parents moved between professional engagements. His father began to teach him ballet when he was seven, and at the age of nine he made his stage debut in one of his father's ballets at the Theatre de la Monnaie in Brussels. He also trained with the great dancer Auguste Vestris in Bourdeaux.
In 1838, he was appointed principal dancer at the Ballet de Nantes, and this was followed in his twenties by engagements in Bordeaux at the Grand Theatre and Madrid at the King's Theatre. During this period, he began to choreograph his own ballets. He also spent some time in Paris, where his elder brother, Lucien Petipa, was principal dancer at the Paris Opera. Then, in 1847, he was invited to St. Petersburg to become principal dancer at the Imperial Ballet, arriving in the city on 5 June 1847. The following year, his father joined him in Russia as a teacher at the Imperial Ballet School.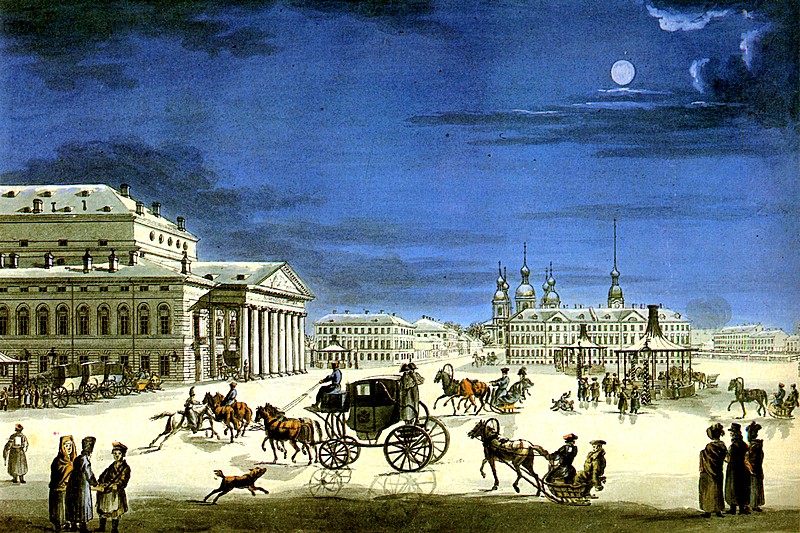 The Saint Petersburg Imperial Bolshoi Kamenny Theatre, ca 1810
At the time Petipa joined the Imperial Ballet, the theatre was going through a relatively low period of popularity. In his first two seasons, he staged and danced in two ballets by Joseph Mazillier, Paquita (1847) and Satanella (1848), that did something to revive the company's fortunes. In 1849, Jules Perrot, then the most famous ballet master in Europe, arrived in St. Petersburg, and for the next decade Petipa would combine his dancing duties with a role as Perrot's assistance, helping to choreograph classic ballets such as Giselle, Le Corsaire, and Ondine that he would revive later in his career and essentially make his own. In 1854, Petipa married the prima ballerina Maria Surovshchika and, starting with L'Etoile de Grenade in 1855, he choreographed a series of original ballets-divertissements to music by Cesare Pugni for his bride that were presented at the private theatres of the Imperial family before appearing on the stage of the Bolshoy Kamenniy Theatre.
Despite his achievements, when Perrot returned to France in 1858, Petipa was not asked to replace him as ballet master. Instead, he was superseded the more famous Arthur Saint-Leon, who arrived from Paris in 1860. For the next nine years, the two Frenchmen would compete for the favour of the public and critics, a situation which spurred both men to provide increasingly lavish and sensational works. The most notable from Petipa were The Pharoah's Daughter (1862) and Le Roi Candaule (1868), both of which proved immensely popular (the former had been performed over 200 times in St. Petersburg by the end of the 19th century).
His next major success, Don Quixote, was first staged at the Bolshoi Theatre in 1869, before premiering in St. Petersburg in an expanded version in 1871. It was the first collaboration between Petipa and Ludwig Minkus, who succeeded Cesare Pugni as Composer of the Imperial Ballet and provided the scores for several of Petipa's most famous works. Saint-Leon left St. Petersburg in 1869, and Petipa was at last appointed Premier Maitre de Ballet in March 1871.
Working with Minkus, Petipa produced a new grand ballet at least once every year throughout the 1870s, the most significant of which was La Bayedere of 1877. After Minkus' retirement in 1886, Petipa worked with several composers, and his most famous later works were his two collaborations with Pyotr Tchaikovsky, The Sleeping Beauty (1890) and The Nutcracker (1893). These, along with Le Reveil de Flore (1894) and Raymonda (1898), are still staples of the Mariinsky repertoire.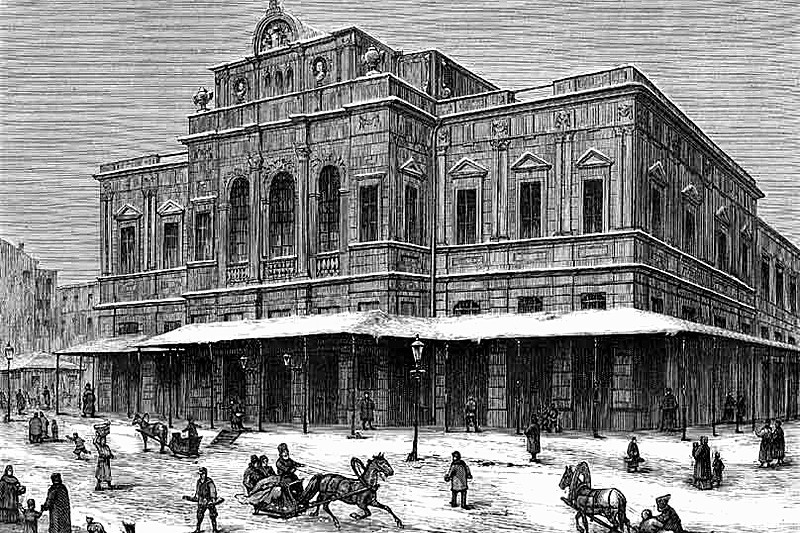 The Mariinsky Theatre ca 1859
In 1885, Petipa oversaw the transfer of the Imperial Ballet Theatre from the structurally unsound Bolshoy Kamenniy Theatre across Teatralnaya Ploshchad to the modern Mariinsky Theatre. During this period, Petipa revived several ballets from earlier in his career and by other choreographers, including Perrot and Saint-Leon. From 1891, all his works were notated following a method developed by the dancer Vladimir Stepanov, and thus it is his versions of ballets such as Perrot's Giselle, Saint-Leon's The Little Hump-backed Horse and Coppelia, and Mazilier's Le Corsaire which have become the backbone of the classical ballet tradition. In his later years, Petipa was considerably aided by his assistant Lev Ivanov and the Italian dancer and teacher Enrico Cecchetti, and he oversaw the staging of the pair's Cinderella (1893), another oft revived masterpiece of Russian ballet.
Petipa's last great ballet, Les Millions de Harlequin, was presented at the Hermitage Theatre in February 1900. In his eighties, he was slowly pushed out of the theatre by a new Director of Imperial Theatres, Vladimir Telyakovsky, who considered his work too old-fashioned. Nonetheless, Petipa retained the devotion of nearly all his dancers, including the great prima ballerinas Anna Pavlova and Olga Preobrajenskaya, with whom he continued to work until 1905. He died in Yalta in 1910, and was buried at the Alexander Nevsky Monastery.
Selected Works: The Pharaoh's Daughter (1862), Le Roi Candaule (1868), Don Quixote (1869), La Bayadere (1877), Giselle (1884), Coppelia (1884), La fille mal gardee (1885), La Esmeralda (1886), The Talisman (1889), The Sleeping Beauty (1890), The Nutcracker (1892), Cinderella (1893), Le Reveil de Flore (1894), Swan Lake (1895), The Little Humpbacked Horse (1895), Raymonda (1898), The Seasons (1900), Harlequinade (1900)
Works in the Mariinsky Theatre repertoire: La Bayadere (1877), Grand pas from Paquita (1847), Giselle (1884), The Sleeping Beauty (1890), Swan Lake (1895), Le Reveil de Flore (1894), Raymonda (1898)