Jules-Joseph Perrot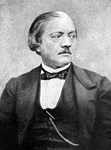 Dancer and choreographer
Born: Lyon, France - 18 August 1810
Died: Parame, France - 29 August 1892

A major figure in 19th century ballet, Jules-Joseph Perrot was a highly successful dancer, choreographer and ballet master who made brief but brilliant contributions to nearly all of Europe's greatest ballet theatres, including the Imperial Ballet in St. Petersburg.
Perrot was born into a theatrical family and began his studies in dance at the age of nine. He made his debut in Paris at the age of 17, and two years later danced for the first time on the stage of the Paris Opera. His first great triumph was in 1831 in Charles Didelot's Flore et Zephyre, and he would continue to be one of the stars of the theatre for over a decade, while also making appearances at Her Majesty's Theatre in London and La Scala in Milan.
His first ballet, Tarantella, was stages in London in 1836 and in 1841 he choreographed Giselle with Jean Coralli, creating the lead role for his protegee and mistress, Carlotta Grisi. The ballet caused a sensation, and was soon premiered in London and then, on 30 December 1842, in St. Petersburg. Later adopted and adapted by Marius Petipa, Giselle became one of the mainstays of Russian classical ballet, considered one of the most challenging roles both technically and dramatically for prima ballerinas, and is still in the repertoire of the Mariinsky Theatre today.
In conflict with the administration of the Paris Opera, Perrot continued his career in London, where he became ballet master at Her Majesty's Theatre (1842-1848), choreographing a series of hits to music by Cesare Pugni, many of which he and then Petipa would revive for the Imperial Theatre in St. Petersburg, among them Ondine ou la Naiade (1843) and La Esmeralda (1844). His Pas de Quatre (1845), which brought together four of the greatest ballerinas of the day, was seen as a another defining moment in Romantic ballet.
In 1848, Perrot was invited to St. Petersburg by the ballerina Fanny Elssler to stage Giselle with the Imperial Ballet. He was asked to take the role of Premier Maitre de Ballet for the 1850/1851 season, and agreed provided a position was created for Pugni, who had become his constant collaborator. He revised his London hits for the stage of the Bolshoy Kamenniy Theatre, expanding them with Pugni's help to fill the full-evening requirements of the Russian ballet. He continued to dance during his first years with the Imperial Ballet, and choreographed 11 ballets and revivals altogether, increasingly with the assistance of Petipa, who would eventually replace him. While in St. Petersburg, he married one of his students, Kapitoline Samovskaya.
He returned to Paris in 1859, where he lived in semi-retirement, most noticeably appearing as the dance master in Edgar Degas' paintings of the 1870s The Rehearsal and The Ballet Class. His career was overshadowed by that of his successor, Marius Petipa, although he was undoubtedly the originator of several ballets that, revived and adapted, have become part of the canon of Russian classical ballet.
Works in St. Petersburg: Giselle (revival, 1849), Ondine ou La Naiade et le Pecheur (New version, 1851), La Guerre des femmes (1852), Gazelda ou les Tziganes (1852), Faust, nouvelle version (New version, 1853), Marco Bomba (1854), Armida (1855), La Debutante (1857), La Petite Marchande de bouquets (1857), La Rose, la Violette et le Papillon (1857), Le Corsaire (1858), Eoline ou la Dryade (New version, 1858)
Related works in the Mariinsky Theatre repertoire: Giselle (Revival by Marius Petipa, 1884), Ondine (Revival by Pierre Lacotte, 2006), Le Corsaire (Revival by Pyotr Gusev, 1955)