Johann Gottlieb Georgi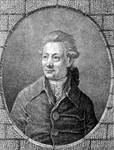 Botanist, polymath
Born: Vahholtshagen, Pomerania - 31 December 1729
Died: St. Petersburg - 27 October 1802

Although born in Pomerania, Johann Georgi studied at the University of Uppsala in Sweden, where he qualified as a doctor, studied with Carl Linnaeus, and worked as a pharmacist. Georgi came to Russia at the behest of the Imperial Academy of Sciences in 1770.
He was to accompany both Johann Peter Falck and Peter Simon Pallas when they each made their respective Siberian journeys, and he also travelled in Central Asia, visiting Astrakhan, the Urals, Bashkir, and other cities in the region. He mapped Lake Baikal in 1772, gathering and describing numerous samples of the flora and fauna of the surrounding area, and was the first to discover the Omul fish.
On his travels, he chronicled and collected almost everything he saw. His collection of minerals became the foundation of the museum at the department of mineralogy at St. Petersburg University, while his ethnographic observations were published as the first consolidated study of the customs, beliefs, dwellings and costumes of all the peoples of the Russian state. This work won the admiration of Catherine the Great, who had it published at the expense of the crown and awarded him with a gold snuffbox.
Georgi settled in St. Petersburg in 1776. He conducted experiments in chemistry in the city's first laboratory, and described the flora of the surrounding countryside. He was made an academician of the Academy of Sciences in 1783, and in 1790 published in German a book detailing the architecture and plans of St. Petersburg and the sights around it, one of the first books devoted to the young Russian capital. His final major work, a nine-volume survey of the geography and natural history of the Russian Empire, was published from 1797 to 1802, the year of his death.
Connected with: Peter Simon Pallas