Giulio Renato de Litta Visconti Arese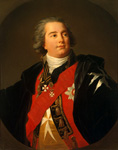 Statesman, soldier
Born: Milan - 12 April 1763
Died: St. Petersburg - 25 January 1839

The younger son of an aristocratic Milanese family, Giulio Litta was educated by Jesuits and at 17 joined the Maltese Order of St. John of Jerusalem. He quickly demonstrated great abilities as a sailor, and was put in charge of one of the Order's four war galleys. Soon after, as the Russian court sought closer ties with the Knights of Malta as allies against the Turks, Litta was sent to St. Petersburg on the request of Catherine the Great to assist the Russian fleet in its preparations to sail around the continent of Europe and into the Mediterranean Sea. He arrived in St. Petersburg in 1789 and at the age of only 26 was awarded a general's rank, making him the youngest general in the history of the Russian Empire.
Litta distinguished himself with the Russian Navy against the Swedish fleet at the First Battle of Svensksund (1789), for which he was awarded the Order of St. George 3rd Class. When the Russians were defeated in the following year at the Second Battle of Svensksund, however, he resigned his position and left St. Petersburg.
He returned to Russia in 1794, this time as the official ambassador of the Order, charged with pressing the Maltese claim to unpaid rents from the Ostrog Priory in the Polish-Lithunian Commonwealth, by then under the control of the Russian crown. Paul I had been an admirer of the Knights of Malta since childhood, and in his brief reign he not only granted the Order the payment of the Ostrog rents but also a Grand Russian Priory in Russia and, after the capture of Malta by Napoleon in 1798, himself became Master of the Order and declared the island a part of the Russian Empire. Litta took Russian citizenship and was granted the title of count, as well as command of the newly formed Cavalier Guards Regiment.
Litta married the widowed Countess Ekaterina Skvaronskaya, whom he had met years before in Italy when her husband was Russian Ambassador to the King of Naples. With the assassination of Paul, the Knights of Malta lost their importance to the Russian crown, but Litta remained in government service in St. Petersburg through the reigns of Alexander I and Nicholas I, eventually reaching the rank of Chief Master of the Court. He died in 1839 in the house on Millionaya Ulitsa that he had occupied for nearly 40 years, and was buried in the cemetery of the Catholic Church of John the Baptist in Tsarskoye Selo.
Address: 7, Millionaya Ulitsa