Fidelio Bruni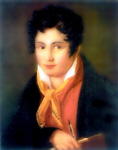 Painter
Born: Milan, Italy - 10 June 1799
Died: St. Petersburg - 30 August 1875

Italian by birth but raised and educated in Russia, Fidelio Bruni found considerable fame in both his native and adopted countries, winning praise from the most discerning critics in the former and reaching the highest official posts of his profession in St. Petersburg.
Bruni first came to Russia at the age of eight with his father, Antonio Bruni, who travelled to St. Petersburg in 1807 to work as a restorer and decorative painter. By the age of 10, Fidelio (or Fyodor) Bruni was studying in the Academy of Arts under the tutelage of Alexey Yegorov, Andrey Ivanov and Vasiliy Shebuyev. At the age of twenty, he moved to Rome, where he continued his studies and began to win fame as a painter in the Academic style.
Bruni returned to St. Petersburg in 1836, and was made a professor at the Academy of Fine Arts. He also painted a monumental canvas on the theme of the Intercession of the Holy Virgin for the altar of Kazan Cathedral. He returned to Rome in 1838, where he completed his masterpiece The Brazen Serpent in 1840. The next year, the painting was transported to St. Petersburg and hung in the Winter Palace, while Bruni was called back to Russia to work on decorations for the interiors of St. Isaac's Cathedral. He produced 25 canvases, copied by him or other artists under his supervision onto the walls and ceilings of the cathedral.
In 1849, Bruni was appointed Curator of the Imperial Hermitage Picture Galleries, in which role he made two trips back to Italy to purchase artworks. He was made Rector of Sculpture and Painting at the Academy of Fine Arts in 1855. He retired from the post in 1871 and died four years later. He is buried at the Alexander Nevsky Monastery. He was the great-grandfather of Lev Bruni, a major artist of the Russian and early-Soviet avant garde.
Works: St. Isaac's Cathedral (interior), Self-portrait (State Russian Museum), Charity (State Russian Museum), Portrait of Princess Zinaida Volkonskaya in the costumer of Tancred (State Russian Museum), The death of Camellia, sister of Horace (State Russian Museum), The Brazen Serpant (State Russian Museum), Bacchante giving wine to Cupide (State Russian Museum), Madonna with child (State Russian Museum)
Connected with: Lev Bruni