Enrico Cecchetti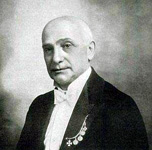 Dancer, ballet master, teacher
Born: Rome - 21 June 1850
Died: Milan - 13 November 1928

Born in the dressing rooms of the Teatro Tordinona in Rome to two dancers, Enrico Cecchetti was once of the greatest male dancers of his day, but became even more famous for his work as a teacher, training Anna Pavlova and Vaslav Nijinsky among others and developing a codified system for the education of ballet dancers - the Cecchetti Method.
Cecchetti studied in Milan and made his debut at La Scala in 1870. He made his first visit to Russia 1877-1882, and in 1885 he was appointed lead dancer at La Scala. He returned to St. Petersburg in 1887 and was invited to join the troupe of the Mariinsky Theatre as a soloist by Ivan Vsevolozhskiy, Director of the Imperial Theatres. His spectacular style and mastery of facial mimicry astounded Russian audiences used to male dancers playing a very secondary role to prima ballerinas. His most celebrated performance was in the premiere of Tchaikovsky's The Sleeping Beauty (1890), choreographed by Marius Petipa, in which he danced the two very different roles of the Bluebird and Carabosse.
In 1892, he was appointed Second Ballet Master at the Mariinsky, a role that mostly involved coaching and rehearsing the dancers. He began to teach at the Imperial Ballet School, first mimicry and then classical dance. A conflict with the Directorate of the Imperial Theatres led him to quit St. Petersburg for Warsaw in 1902, but he returned in 1905 to establish his own school in the city. For two years (1905-1907), he worked exclusively with Anna Pavlova, but his techniques were in huge demand with the other Mariinsky dancers, and he went on to train Mathilde Kschessinska, Tamara Karsavina, Olga Preobrajenska, and Nijinsky. Cecchetti was so popular with dancers that Diaghilev felt obliged to invite him to join the Ballets Russes, employing him as ballet master and mime in 1910. Special miming roles were created for him in Ballets Russes productions.
After eight years of touring in Europe, the Americas and Australia, Cecchetti settled in London and opened a school in 1918. The English ballet critic Cyril Beaumont helped him to establish the Cecchetti Society in 1922, and recorded his teaching system in a manual, which led to the founding of several ballet schools following the Cecchetti Method throughout the world. In 1923, he returned to Italy, where he was invited to teach at La Scala by Arturo Toscanini. He worked right up to the day before his death in 1928.
Connected with: Marius Petipa, Anna Pavlova, Vaslav Nijinsky, Mathilde Kschessinska, Tamara Karsavina, Olga Preobrajenska