Charles-Louis Didelot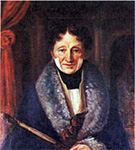 Ballet dancer and choreographer
Born: Stockholm - 27 March 1767
Died: Kiev - 7 November 1837

Didelot was born into a family of dancers. His father, Charles Didelot, was the dance master of the King of Sweden and it was under his father's instruction that he began his career. Didelot's dancing debut was in Stockholm in 1786. He then moved to Paris and studied with Jean Dauberval and Jean-Georges Noverre. It was with Noverre that Didelot made his 1788 London debut.
In 1801, Didelot was invited to become Director of the Imperial Ballet in St. Petersburg. His dancing career was soon cut short by a leg injury. However, by 1804 Didelot was already instructing others in the art of ballet. This instruction was revolutionary in that he was a proponent of Ballet d'Action, adapting the historic narrative style to increasingly Romantic themes. He simplified ballet costumes to give dancers greater freedom of movement, and pioneered the use of flight in his choreography, even attaching wires to his dancers. As well as ballets on the stage of the Bolshoy Kamenniy Theatre, he was responsible for choreographing celebrations in Pavlovsk and the Smolny Monastery, providing dancing entertainment at court, and staging dances for opera performances.
Forced to leave Russia during the Napoleonic Wars, Didelot found international fame with his ballet Zephyr et Flore, which he staged in London in Paris in 1815. He was invited back to his old job in St. Petersburg in 1816, and he remained with the Imperial Ballet until 1832, producing new ballets regularly until 1825. At the end of his career, Didelot came into conflict with the Director of Imperial Theatres, Prince Pavel Gagarin, who eventually had him arrested, either for his insouciant reaction to the delayed start of a performance or, according to Soviet sources, for agitating for the rights of his dancers. Either way, he resigned his post soon after, and died in Kiev in November 1837, on his way to Crimea for a rest cure.
The first great ballet master of the 19th century in St. Petersburg, Charles Didelot is a key figure in the development of Russian national ballet, not only for his innovations in choreography and staging in over 40 productions, but also as the founder of the St. Petersburg method of ballet training at the Imperial Theatre School.