Cesare Pugni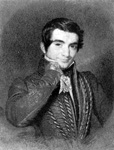 Composer
Born: Genoa - 31 May 1802
Died: St. Petersburg - 6 January 1870

An enormously gifted composer who enjoyed close associations with the ballet masters of his day, including Jules Perrot and Marius Petipa, Cesare Pugni was among the first serious composers of music for ballet and is still considered the most prolific ballet composer of all time, having written nearly 100 original ballet scores. Around twenty of these he produced for the Imperial Theatres in St. Petersburg during the golden dawning of Russian ballet in the 1850s and 1860s.
Pugni graduated from the Milan Imperial Conservatory in 1822, and began his career as a violinist in the orchestras of La Scala and the Teatro alla Canobbiana. He wrote his first ballet score at the age of twenty-one, and his works immediately won immense popularity. He was among the first to compose completely original scores for ballet, rather than compiling and adapting existing music, and to employ leitmotif in his works. Despite these innovations, however, Pugni was not satisfied with the genre, and appears to have envisaged himself as a grand composer of opera and symphonic works.
His first opera and his early symphonies were met with the same enthusiasm as his ballets, inspiring effusive praise from his peers, including Mikhail Glinka, who was living in Milan at the time. In recognition of his work, Pugni was appointed Maestro al Cembalo ("Harpsichord Director") at La Scala in 1832. However, his penchant for alcohol and his compulsive gambling led him deep into debt, and he was dismissed from La Scala two years later, possibly in connection with misappropriation of funds.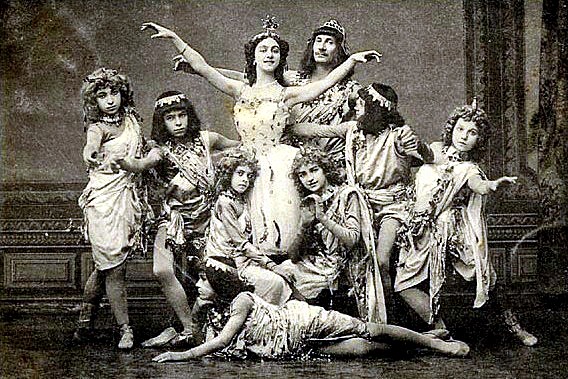 Vera Karalli as the Princess Aspicia and Platon Karsavin as the Pharaoh in the Pugni's The Pharaoh's Daughter. St. Petersburg, ca. 1910
Fleeing from his creditors in Milan, Pugni spent several years in poverty and musical drudgery in Paris until, almost a decade later, his extraordinary abilities came to the attention of Jules Perrot, then Ballet Master of Her Majesty's Theatre in London. In 1843, Pugni was invited to take up the role of Composer of the Ballet Music. In his seven seasons in London, Pugni would compose some of his most famous ballets, including La Esmerelda (1844) and Catarina, ou la fille du bandit (1846). While his greatest triumphs were with Perrot, Pugni also composed ballets for Paul Taglioni, who was guest choreographer in London in 1847, and made several journeys back to Paris to work with Arthur Saint-Leon, Ballet Master at the Paris Opera.
In 1849, Perrot and Pugni travelled to St. Petersburg to stage La Esmeralda at the Imperial Ballet. Perrot was offered the position of Maitre de Ballet, and on his recommendation a new post, Ballet Composer of the Imperial Theatres, was created for Pugni (before that, composition of ballet scores had been among the duties of the Musical Director). The pair began working in St. Petersburg in the 1850-1851 season, and Pugni's prolific output continued. Perrot revived several of their London successes, which entailed expanding the scores, as the manner in St. Petersburg was to devote whole evenings to ballet, rather than having a mixed programme of ballet and opera. Pugni composed at least six new scores for Perrot before the latter left Russia in 1858.
Pugni had also begun to compose scores for Marius Petipa, who had been lead dancer at the Imperial Theatre since 1847, and also worked as Perrot's assistant. The first collaboration between Pugni and Petipa was L'Etoile de Grenade in 1855, and he continued to compose for the choreographer, as well as for his chief rival, Arthur Saint-Leon, who replaced Perrot as Premier Maitre de Ballet.
Pugni scored nearly every ballet the two choreographers produced in the 1860s, although once again he took to gambling and drinking, which plunged the two households he kept in St. Petersburg into chronic debt and had a deleterious effect on his musical output. Nonetheless, he took up a post at the newly opened St. Petersburg Conservatory, teaching composition and counterpoint, and he still managed to produce remarkable music on occasion, including The Pharoah's Daughter (1862), The Little Humpbacked Horse (1864), and Le Roi Candaule (1868). These proved among his most enduring works, and The Little Humpbacked Horse was especially popular thanks to its employment of traditional Russian folk themes, which made it a favourite with Alexander II, among others.
Pugni failed to deliver a score for Petipa's Don Giovanni in 1869, although he did manage to produce the highly acclaimed one-act ballet Les Deux etoiles before his death in January 1870. He was buried in the Vyborgskaya Catholic Cemetery. After Pugni's death, Petipa made considerable efforts to help the composer's poverty-stricken family, organizing several benefit performances of his work.
While Cesare Pugni may have missed his chance to become one of the greatest composers in history, his role in the development of ballet music can not be understated and inspired some of the greatest choreography ever witnessed.
Works composed in St. Petersburg: La Guerre des femmes, ou Les Amazons du neuvieme siecle (Perrot, 1852), Gazelda, ou Les Tziganes (Perrot, 1853), Marcobomba (Perrot and Petipa, 1854), Armida (Perrot, 1855), La Debutante (Perrot, 1857), La Petite marchande de bouquets (Perrot and Petipa, 1857), L'Ile des muets (Perrot, 1857, in collaboration with Theodore Labarre), Un Mariage sous la Regence (Petipa, 1858), Le Marche des parisien (Petipa, 1859), Le Dahlia bleu (Petipa, 1860), Graziela, ou Les Depits amoureux (Saint-Leon, 1860), Les Nymphes et le satyre (Saint-Leon, 1861), The Pharaoh's Daughter (Petipa, 1862), La Belle du Liban, ou L'Esprit des montagnes (Petipa, 1863), The Little Humpbacked Horse (Saint-Leon, 1864), Florida (Petipa, 1866), Le Roi Candaule (Petipa, 1868), Les Deux etoiles (Petipa, 1869)
Connected with: Mikhail Glinka, Jules Perrot, Arthur Saint-Leon, Marius Petipa