Catarino Camillo Cavos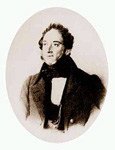 Composer
Born: Venice - 30 October 1775
Died: St. Petersburg - 10 May 1840

The father of the architect Alberto Cavos, Catarino was an important artistic influence on the development of Russian culture, especially the world of opera. Born in Venice, Cavos was a child prodigy, composing from an early age, and offered the post of organist at St. Mark's Basilica when only fourteen.
In his early twenties, he was appointed conductor of the Astariti opera company, which came to St. Petersburg on tour in 1797. He became enamoured with the city and returned there when the company disbanded. At first he composed operas vaudevilles for the French Opera Company of the Imperial Theatres. Then, in 1803, Emperor Alexander I took control of St. Petersburg's public theatres and appointed Cavos the Director of the Italian and Russian Opera Companies, which gave most of their performances on the stage of the Bolshoy Kamenniy Theatre, sited opposite the modern Mariinsky Theatre (built by the composer's son, the architect Alberto Cavos).
Although a foreigner, Cavos was a pivotal figure in the development of Russian national opera, composing several works based on Russian folk themes, including the 1815 opera Ivan Susanin, which used the same source material as Glinka's A Life for the Tsar, written two decades later and premiered under Cavos' baton. He wrote scores to libretti by some of the greatest Russian writers of the age, including Ivan Krylov, Vasiliy Zhukvoskiy, and the poet and playwright Prince Alexander Shakhvoskoy, who became his most regular collaborator. Cavos also composed several ballets, perhaps the most notabl of which was based on Alexander Pushkin's poem The Caucasian Prisoner.
As well as his composing and conducting, he taught at the Imperial Theatre Academy and at the Smolny Institute. His younger son, Giovanni or Ivan Cavos, followed in his father's footsteps, becoming Director of the Italian Opera Company and an Inspector at the Smolny Institute.
Selected Works: Knyaz-nevidimka (The Invisible Prince) (1805), Ilya Bogatyr (Ilya the Hero) (Opera, libretto by Ivan Krylov, 1807), Zephyre et Flore (Ballet, 1808), Ivan Susanin (Opera, libretto by Alexander Shakhovskoy, 1815), Zhar-ptitsa (The Firebird) (Opera, libretto by Nikloya Yazykov, 1822), Kavkaskiy Plennik (The Caucasian Prisoner) (Ballet, 1823)